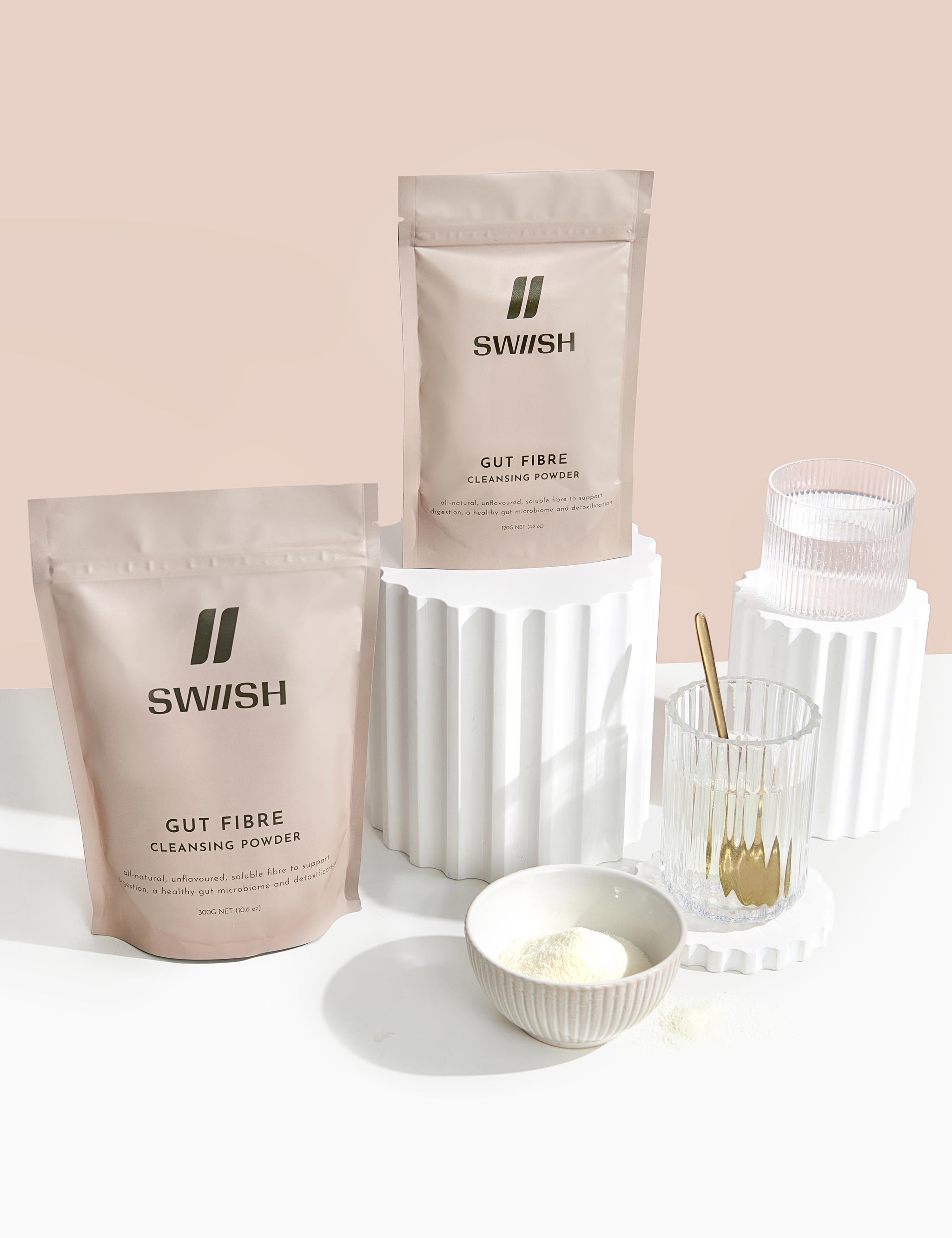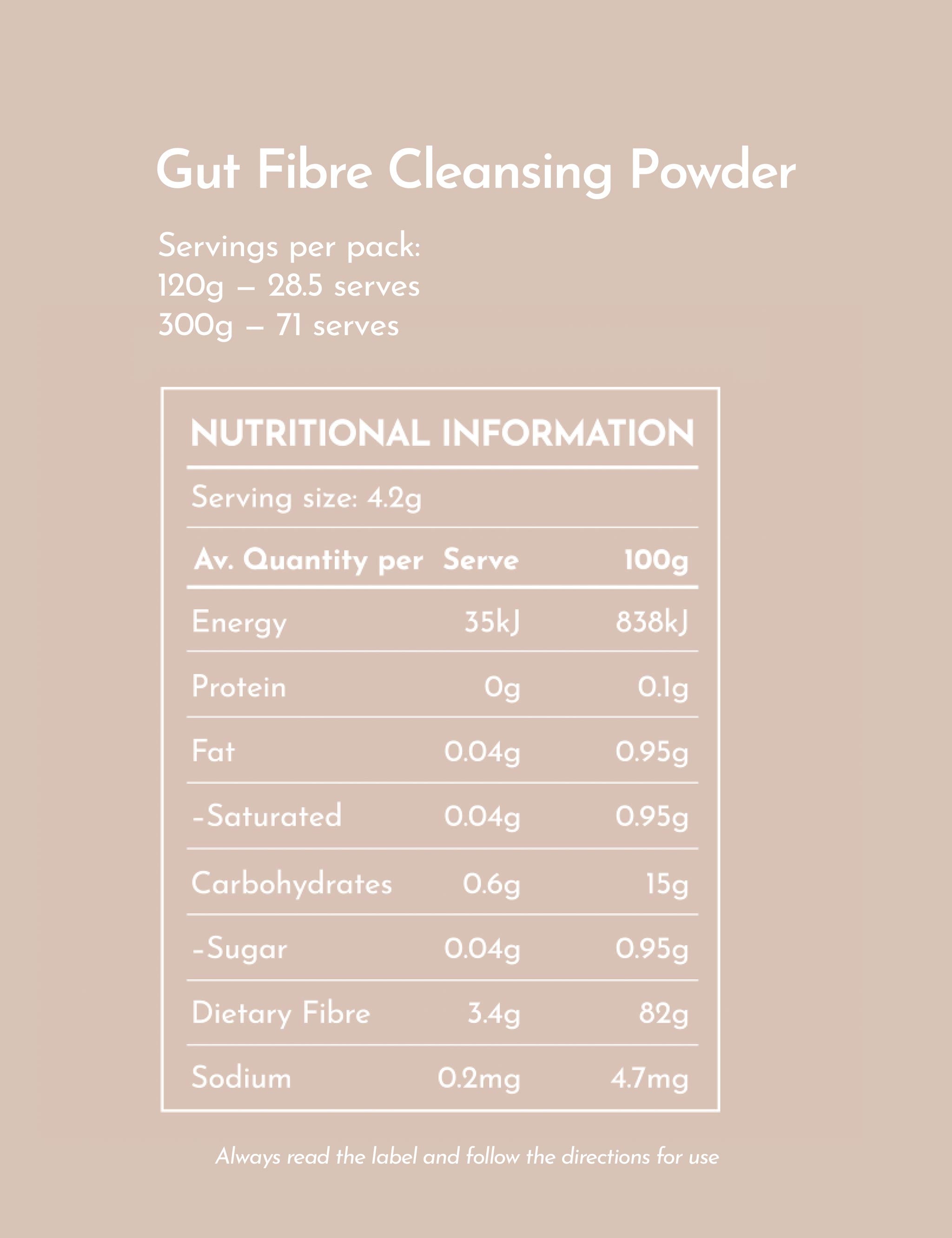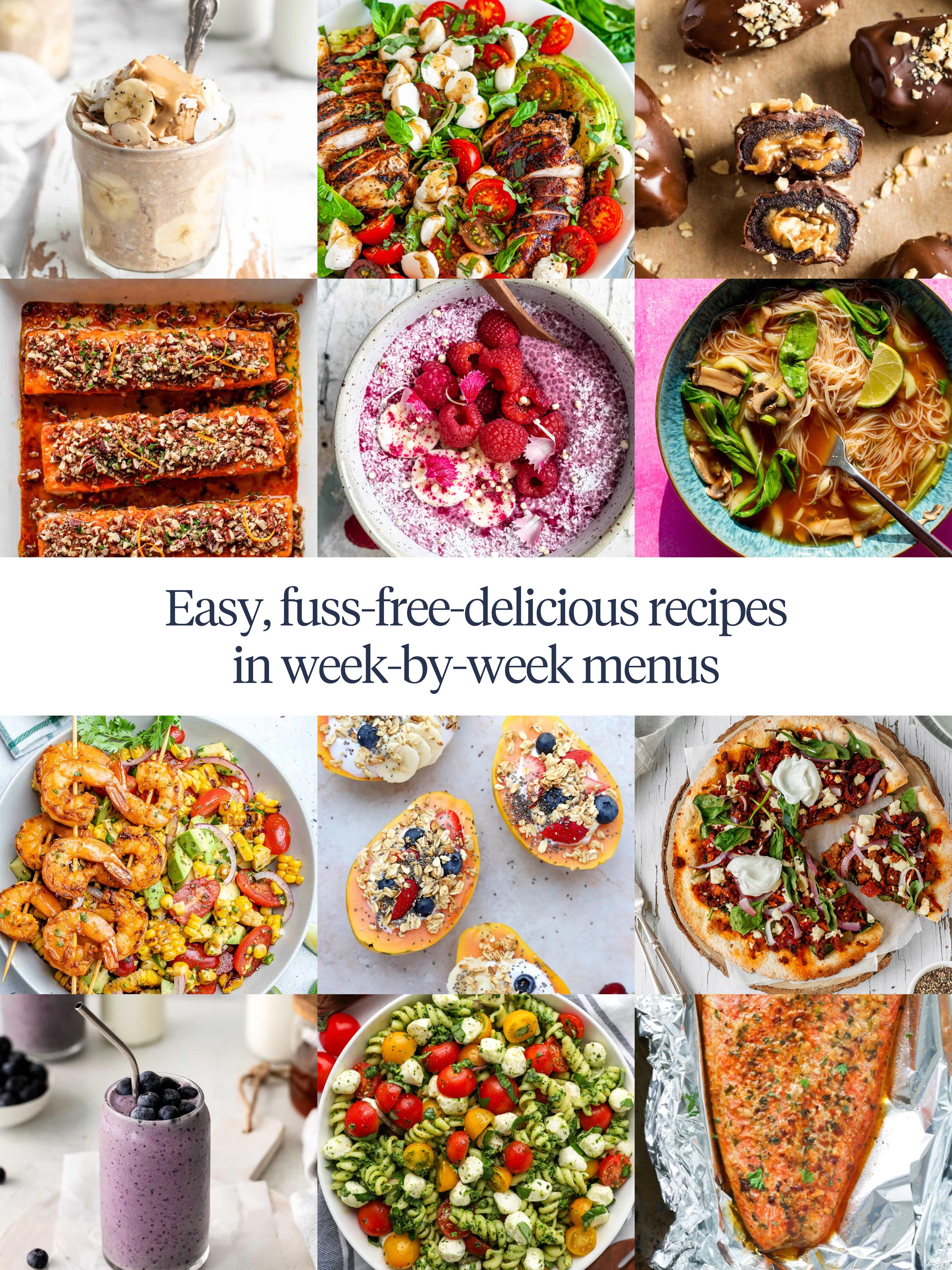 2023 Gut + Skin Cleanse Program Pack
RESET YOUR GUT + SKIN WITH THE ULTIMATE 21-DAY CLEANSE

Tired of feeling sluggish? Want your skin to have that radiant glow? Our 2023 Gut + Skin Cleanse Program Pack is a simple way to supercharge your skin and gut health – all in one go. This program is designed to improve your digestive health, nourish your gut and give your skin exactly what it needs to glow from the inside out. With delicious, fuss-free recipes – this program is about abundance, not deprivation.

Includes: GLOW Marine Collagen 135g, GUT FIBRE Cleansing Powder 120g and 21-Day Gut & Skin Cleanse E-Book (2023 edition)

Got questions? Check our FAQs below or email us at hello@swiish.com.au
Benefits
— Easy-to-follow program
— Weekly meal planner
— 21-Day Cleanse calendar
— Glowing, radiant skin support
— Cleansed and nourished gut
— Delicious recipes & bonus snack ideas
Directions
You can enjoy GLOW MARINE and GUT FIBRE at any time of day and they can be taken together or separately. Simply add a serving to water, juice, coffee or a smoothie of your choice each morning. Stir well to combine.
Ingredients
GLOW MARINE COLLAGEN POWDER: 100% Hydrolysed Marine Collagen Peptides (5000mg per serve). Allergens: Contains Fish.
GUT FIBRE CLEANSING POWDER: 100% Maize Dextrin (Non-GMO).
FAQs
Can I re-do the cleanse?
Yep! At any time. That's the beauty of this e-program, it's simple and easy to follow. You can do it over and over again whenever your body feels like it needs a reset!

Can I start the cleanse at any time?
Of course! The program has been designed so that you can start at any time that suits you.
Can I mix these powders together?
Yes! These are perfect to mix together in water, smoothies, and juices, as well as protein bars, breakfast cereals, or your baking of choice for the ultimate skin and gut boost.

What we leave out:
Free from gluten, dairy, lactose, soy and nuts. No artificial flavours, colours or sweeteners. All natural. No added sugar.
What does hydrolysed collagen mean?
Our collagen has been through a process known as hydrolysis whereby long-chain amino acids have been broken down using water into smaller molecular components called small-chain amino acids. As a result, it is now soluble in water and more easily absorbed by the body when consumed. The common term for this is "bioavailability". These small-chain amino acids (also known as peptides) are absorbed by the body to help regenerate lost collagen such as the collagen that occurs naturally in the deepest layers of skin known as the dermis. This in turn helps reduce wrinkles caused by ageing.

What do they taste like?
Both 100% unflavoured.

How long before I see skin results from the collagen?
According to extensive scientific research, you can expect to see results within 4 weeks of taking it daily. You should see skin become more hydrated, then an improvement in fine lines and wrinkles by about 6-8 weeks. By the 10-12 week mark, most people notice an increase in skin elasticity and firmness.

Can I take the powders in this pack while pregnant or breastfeeding?
GLOW MARINE Collagen Powder and GUT FIBRE Cleansing Powder are both all-natural, but consuming any supplement while pregnant or breastfeeding is a personal choice and we always recommend consulting with your doctor beforehand to be sure they approve. Please refer to the nutritional information and ingredients list
Can I take these powders with other medications?
Our SWIISH powders are all-natural and contain nothing artificial. We are unable to provide exact advice on whether they are safe to consume whilst taking other specific medications. As everyone's situation is different, we recommend that you check with your healthcare professional to see if these powders would be beneficial for you. Please refer to the nutritional information & ingredients list for each powder.
The Science
GLOW Marine Collagen Powder — Anti-ageing Support & Skin Hydration
Collagen is the most abundant protein in the human body with over 28 known types. Of these, Type 1 collagen is involved in skin, hair, nail, and gut health predominantly, and is the type of collagen used in our GLOW Hydrolysed Collagen Powder. The other types of collagen are involved in other processes in the body such as joint, cartilage, and bone health. Studies show that 10g per day of collagen is recommended for helping maintain skin strength and elasticity. One serving of any of our GLOW Collagen Powders equates to 5g of collagen, which is why we suggest two servings per day for optimal support. This 10g daily amount not only provides your body with adequate collagen, but assists it in generating its own. When collagen peptides are ingested, they stimulate fibroblast proliferation – the process responsible for collagen production. (Fibroblasts are a type of cell that synthesises collagen. Other than contributing to skin health, they also play an important role in wound and injury healing).
(Barati, M., Jabbari, M., Navekar, R., Farahmand, F., Zeinalian, R., Salehi-Sahlabadi, A., Abbaszadeh, N., Mokari-Yamchi, A., & Davoodi, S. H. (2020). Collagen Supplementation for Skin Health: A Mechanistic Systematic Review. Journal of cosmetic dermatology, 19(11), 2820–2829)
Skin Hydration
As well as helping improve the texture and complexion of skin, collagen also contains prolyl-hydroxyproline which has been shown to trigger hyaluronic acid production. Subsequently, this increases skin's water content and hydration.
(Inoue, N., Sugihara, F., & Wang, X. (2016). Ingestion of Bioactive Collagen Hydrolysates Enhance Facial Skin Moisture and Elasticity and Reduce Facial Ageing Signs in a randomised double-blind placebo-controlled clinical study. Journal of the science of food and agriculture, 96(12), 4077–4081)
Signs Of Ageing
A recent systematic review looked at 11 major studies that assessed the use of collagen for skin health and signs of ageing. The results demonstrated a significant improvement in skin elasticity, hydration, and dermal collagen density (the amount of collagen found in skin), as well as wound healing and overall signs of ageing. The amount of collagen supplementation examined in these studies was 2.5g–10g daily. These findings also showed that collagen supplementation is generally considered safe with no reported adverse side effects.
(Choi FD, Sung CT, Juhasz ML, Mesinkovsk NA. Oral Collagen Supplementation: A Systematic Review of Dermatological Applications. J Drugs Dermatol. 2019 Jan 1;18(1):9-16. PMID: 30681787)
Gut Health
Collagen is also incredibly important for gut health. Studies have shown that collagen can improve a dysfunctional gut barrier (such as leaky gut) by enhancing tight junctions. When tight junctions aren't functioning properly allowing foreign bodies to enter the gut, this can cause pain, bloating, and inflammation – collagen can help alleviate this.
(Chen, Q., Chen, O., Martins, I. M., Hou, H., Zhao, X., Blumberg, J. B., & Li, B. (2017). Collagen peptides ameliorate intestinal epithelial barrier dysfunction in immunostimulatory Caco-2 cell monolayers via enhancing tight junctions. Food & function, 8(3), 1144–1151)

GUT FIBRE Cleansing Powder — Supports A Healthy Digestive System
Although there are microbiomes all over the body, the most important for overall health and wellbeing is the gut as this is central to almost every process in the body. Containing trillions of microorganisms with over 1000 known species of bacteria, a healthy gut microbiome is involved in:

— Regulating gut inflammation that can cause or minimise subsequent systemic inflammation
— Neurotransmitter synthesis: bacteria in the gut help produce neurotransmitters such as serotonin, dopamine, and acetylcholine, which regulate mood, cognition, and other important functions
— Hormone synthesis, regulation, and clearance
— Toxin/pathogen neutralisation and elimination
— Digestive and metabolic processes – including energy production
— Immune strength: over 70% of the immune system resides in the gut, within the Gut–Associated Lymphoid Tissue (GALT)

Prebiotics
These compounds in food feed the living microorganism in your gut, encouraging a diverse range of good bacteria that outweighs the bad. It is important to note that there is always a level of "bad" bacteria in your gut, this is normal. It is the balance between these beneficial and potentially harmful bacteria strains that's important. There are two types of fibre: insoluble and soluble. Both feed your gut bacteria, helping them to thrive and your digestive system to function at its best. Our GUT FIBRE Cleansing Powder is made of 100% pure maize dextrin which is a form of soluble fibre.
Gut and skin cleanse

I am half way through the program and I find the food and supplements easy to prepare and everything tastes great.

As I purchased the package I assumed I would have enough supplements for the entire program but I had to purchase more.

I did confirm the measurements via email and I was doing it correctly.

Great

Best gut and skin cleanse
Reviews Loaded
Reviews Added