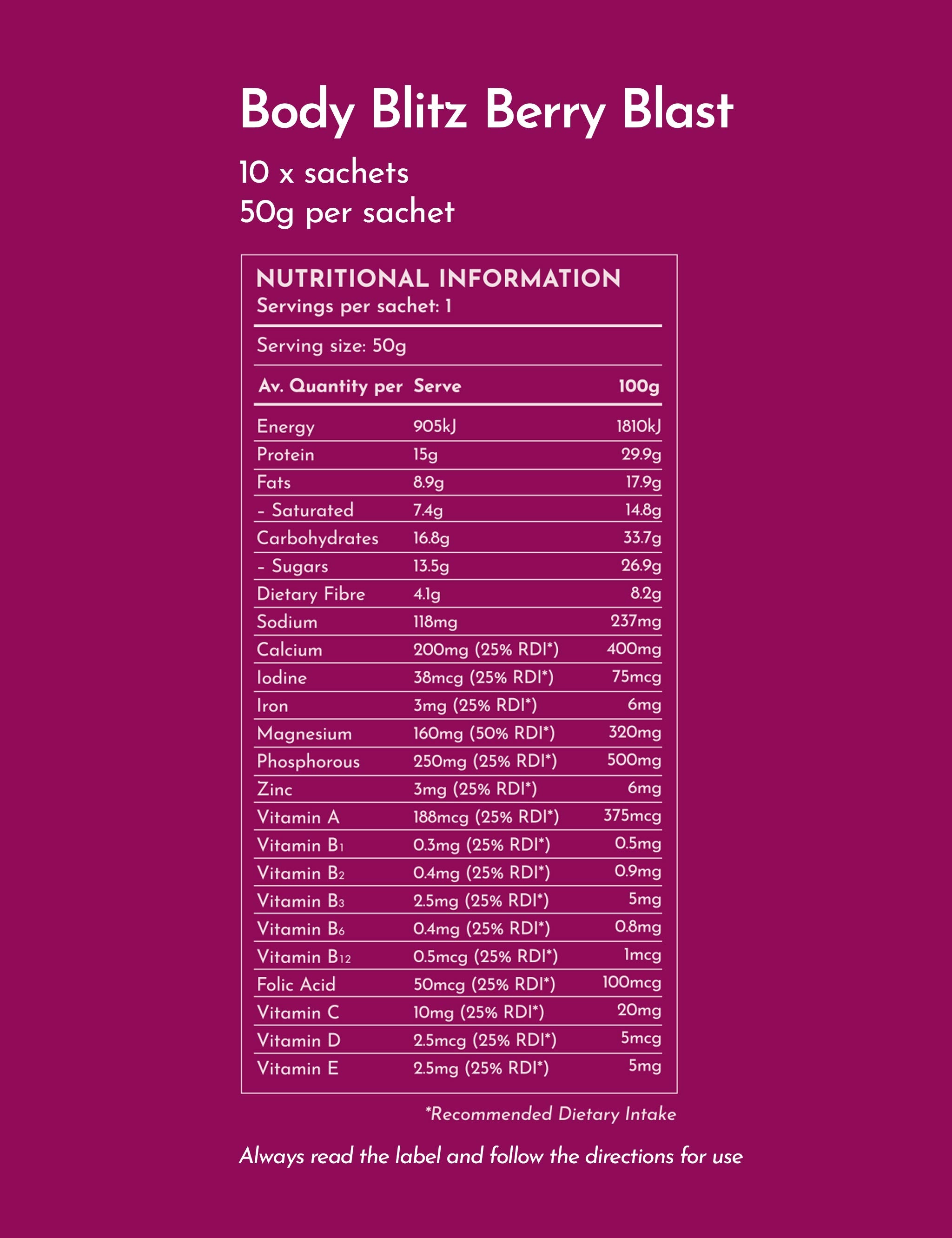 Body Blitz Meal Replacement — Berry Blast 10–Pack
Maximise your nutritional game, feel fuller for longer, support your weight goals and energy needs. Formulated with the highest quality ingredients and 100% organic plant-based protein, BODY BLITZ, is your all-in-one meal replacement.

SIZE: 500g (10 sachets x 50g each)

Got questions? Check our FAQs below or email us at hello@swiish.com.au
Benefits
— Certified organic plant protein
— Complete with all essential vitamins and minerals
— Correct levels of protein, fibre and healthy fats
— Supports digestion and healthy metabolism
— Keeps you satiated and satisfied
— Supports weight loss
— Easy to make and take on-the-go
— Also available in Choc Twist

Find out more here.
Directions
Mix one sachet with at least 1 cup of cold milk or water. Shake vigorously or blend until dissolved.
Ingredients
Certified Organic Proteins (Pea, Brown Rice, Hemp Seed), Banana, Coconut Powder, MCT Oil, Berries (Blueberry, Blackcurrant, Raspberry, Strawberry), Minerals (Magnesium, Calcium, Zinc, Iron, Iodine), Natural Flavours, Certified Organic Beetroot, Monk Fruit, Pitaya, Vitamins (C, E, B3, Beta Carotene, D, B6, B2, B1, Folic Acid, B12).
♻︎ All SWIISH packaging can be recycled in your normal household recycling.
FAQs
What we leave out:
Free from gluten, dairy, lactose, soy and nuts. No artificial flavours, colours or sweeteners. All natural. No added sugar.
When should I have BODY BLITZ?
The timing really depends on you — your lifestyle, your schedule and your goals. BODY BLITZ is great in the morning as an easy on-the-go breakfast. It also works as a lunch replacement for those busy days or a convenient late–night dinner that will fill you up, give you the nutrients you need but won't be too heavy. Body Blitz is fortified with 17 essential vitamins and minerals to give your body a complete nutritional meal replacement.

What important vitamins, minerals and superfoods does SWIISH BODY BLITZ™ contain?
Certified Organic Plant-based Proteins (pea, brown rice and hemp) — muscle and hormone health
MCT Oil — healthy source of fat
Magnesium — stress support and muscle health
Calcium — bone health
Zinc — skin and immune support
Iron — energy support
Iodine — metabolism support
Vitamin C — immune and skin support
Vitamin D — immune support and bone health
Vitamin E — healthy skin support
Vitamins B1, B2, B3, B6, B9 and B12 — energy support and metabolic function
Beta Carotene — skin and eye health as well as immune support

I thought plant-based proteins do not have all the essential amino acids?
Individually, single sources of plant–based proteins may contain less amounts of each essential amino acid, however, when you consume a combination of plant–based proteins, together, they contain required amounts of all 9 essential amino acids. BODY BLITZ was specially formulated with a mix of pea, brown rice and hemp seeds and is a complete source of protein.

Can kids take this?
We designed BODY BLITZ with adults in mind, however, if you would like to give it to your children please see our intake guidelines below.
4 to 8 years old — ¼ sachet
9 to 13 years old — ½ sachet
14+ — 1 sachet
Note: We do not recommend these groups utilise BODY BLITZ as a meal replacement. Please ensure it is consumed in conjunction with a balanced diet.

Can I have it while pregnant or breastfeeding?
Nutritional requirements are different throughout pregnancy. We recommend that you check with your healthcare professional to see if this meal replacement would be beneficial for you. Please refer to the nutritional information & ingredients list.

Can I take it with other medications?
BODY BLITZ is all–natural and contains nothing artificial, however, we are unable to provide exact advice on whether it is safe to consume whilst taking other specific medications. As everyone's situation is different, we recommend that you check with your healthcare professional to see if this meal replacement would be beneficial for you. Please refer to the nutritional information & ingredients list.
The Science
Complete Protein
Complete proteins are those that include all 9 essential amino acids that must come from diet as the body cannot produce them. These are vital for muscle formation, hormone synthesis, nutrient transport, and building/repairing tissue. There's a common misconception that complete proteins only exist in meat-based products, however, this is not true. Studies have now shown that consuming a mixture of plant proteins (such as that from pea, brown rice and hemp seeds found in BODY BLITZ) can serve as a complete and well-balanced source of amino acids for meeting human physiological requirements.
(Young, V. R., & Pellett, P. L. (1994). Plant proteins in relation to human protein and amino acid nutrition. The American journal of clinical nutrition, 59(5 Suppl), 1203S–1212S)

Satiety & Weight Loss
Studies have shown that weight loss (and maintenance) is higher in a diet with sufficient protein intake thanks to the metabolic effects of protein and its support in improving satiety. The improvement of protein on satiety helps reduce overeating and subsequent energy intake – as excess energy intake (not matched by energy expenditure) leads to storage of energy as fat.
(Westerterp-Plantenga, M. S., Lemmens, S. G., & Westerterp, K. R. (2012). Dietary protein — its role in satiety, energetics, weight loss and health. The British journal of nutrition, 108 Suppl 2, S105–S112)

Energy Support & Liver Detoxification
Body Blitz contains a targeted blend of B Vitamins including B1, B2, B3, B6, B9 and B12. These are involved in the citric acid cycle – the process that produces adenosine triphosphate (ATP), the primary energy-providing compound in the human body. Beyond this, B vitamins are also closely involved in liver detoxification processes that help eliminate toxins and other compounds. In addition, Vitamin C, Iron and Magnesium (each present in Body Blitz™) are also incredibly important nutrients in energy-yielding metabolism. Vitamin C is an essential co-factor in transporting long-chain fatty acids in the mitochondria (the energy-producer within cells). Iron is incorporated into the structure of haem enzymes in the body, which are responsible for cellular energy production – hence why signs of iron deficiency are fatigue, lethargy and breathlessness. Magnesium, although commonly thought of for calming and relaxing muscles, also plays a large role in ATP production and utilisation when taken in conjunction with B Vitamins. ATP binds to magnesium to form an ATP-Magnesium complex to help the mitochondria deliver energy within cells.
(Tardy, A. L., Pouteau, E., Marquez, D., Yilmaz, C., & Scholey, A. (2020). Vitamins and Minerals for Energy, Fatigue and Cognition: A Narrative Review of the Biochemical and Clinical Evidence. Nutrients, 12(1), 228)
Reviewing

Body Blitz Meal Replacement — Choc Twist 10–Pack

Body Blitz

Love this product! This is my second box. I need to buy a third one. Very tasty with a banana.

Reviewing

Metabolism Support Power Duo — Choc Twist

Choc twist

I loved this product. It takes nice and refreshing. I added in a banana to my drink which was just yum!!

Reviewing

Body Blitz Meal Replacement — Berry Blast 10–Pack

sweet treat

this mixes well with milk for an afternoon pick me up and the taste is 100% delicious, stops me reaching for the sweet biscuit to dunk in my cup of Tea!!!!

Reviewing

Body Blitz Meal Replacement — Choc Twist 10–Pack

choc ice berry breakfast love!

I love this mixed with milk, frozen berries & my glow supplement! It keeps me full from breakfast to lunch and it tastes delicious!

Reviewing

Body Blitz Meal Replacement — Berry Blast 10–Pack

Berry Blast

So delicious and filling. My morning starter.
Reviews Loaded
Reviews Added