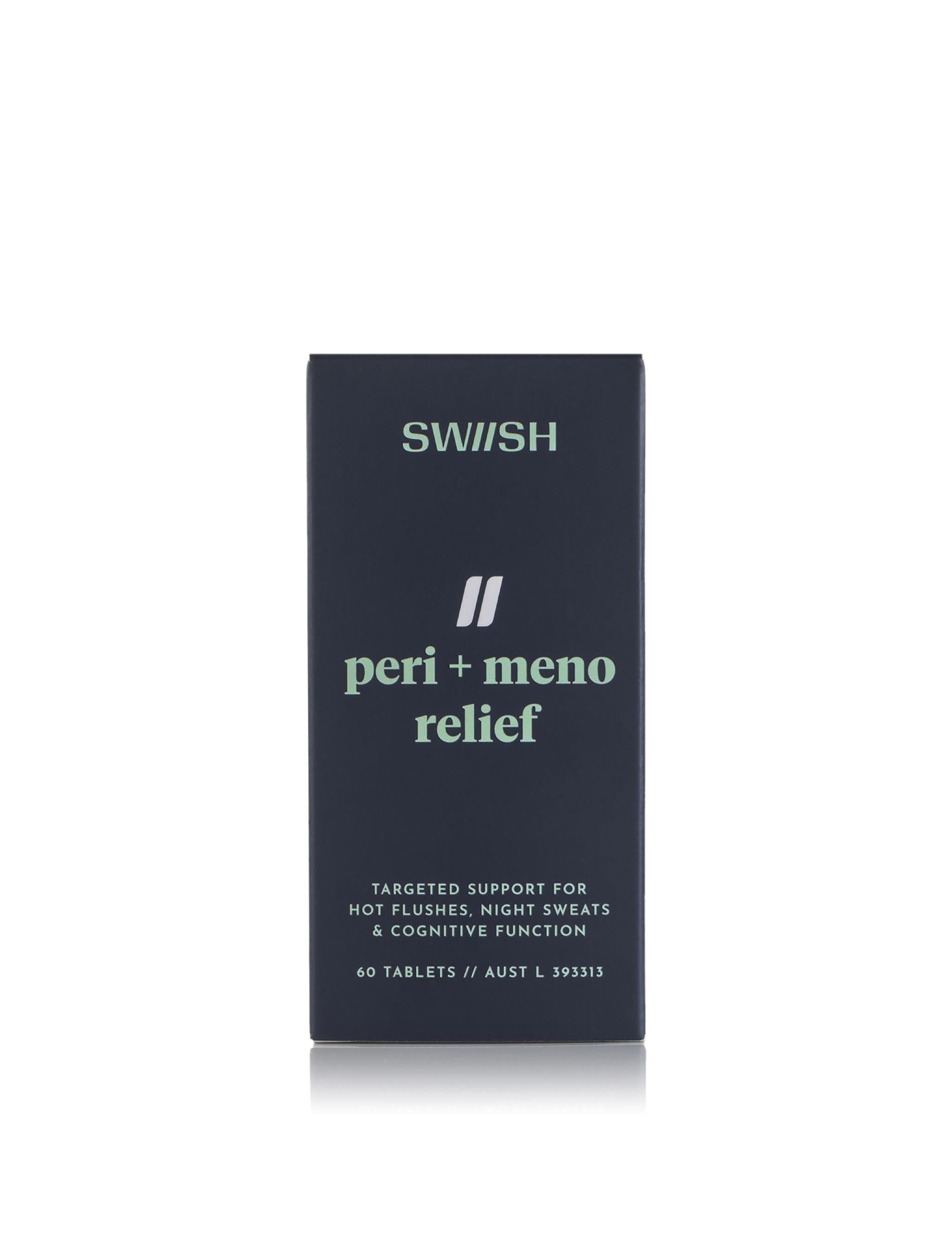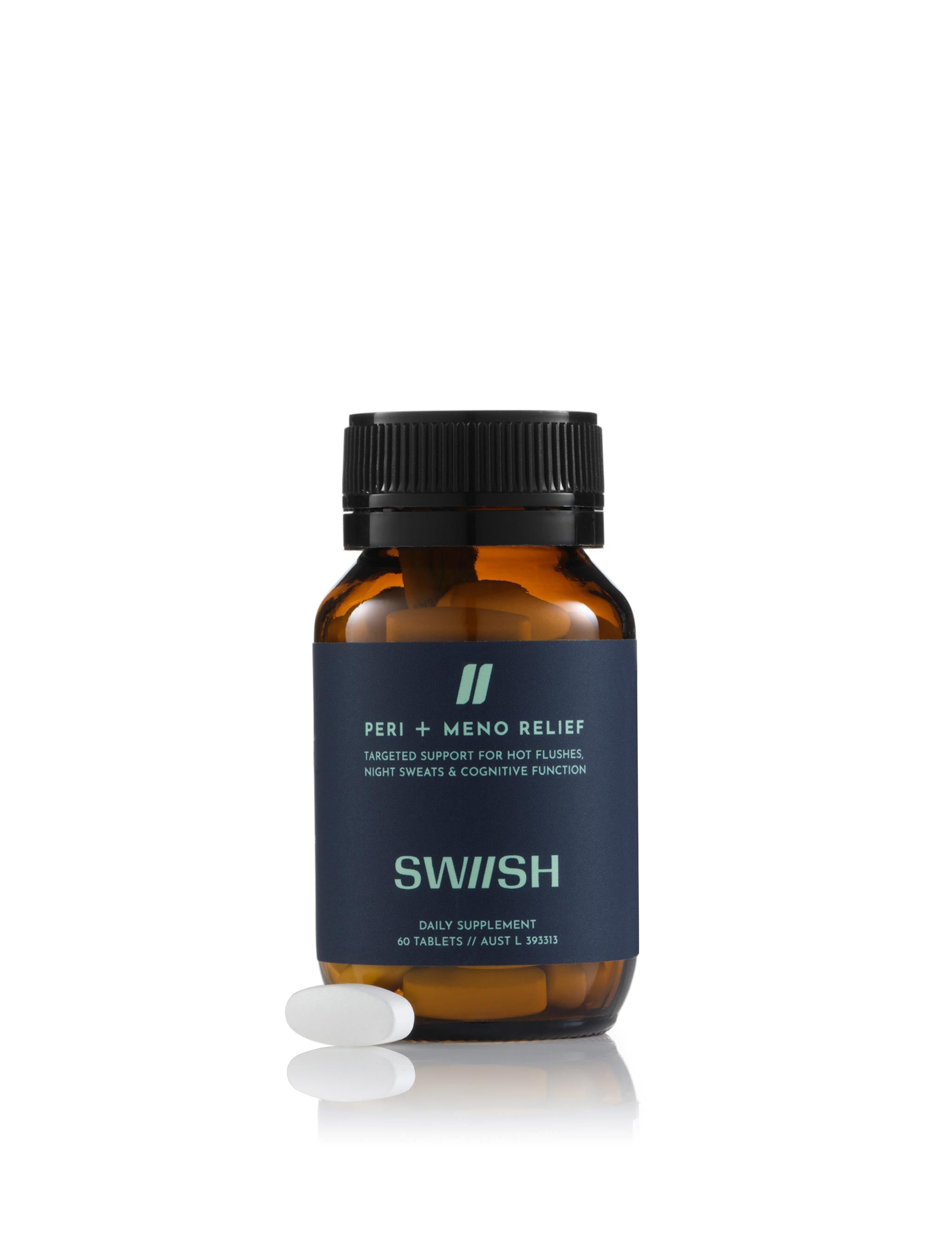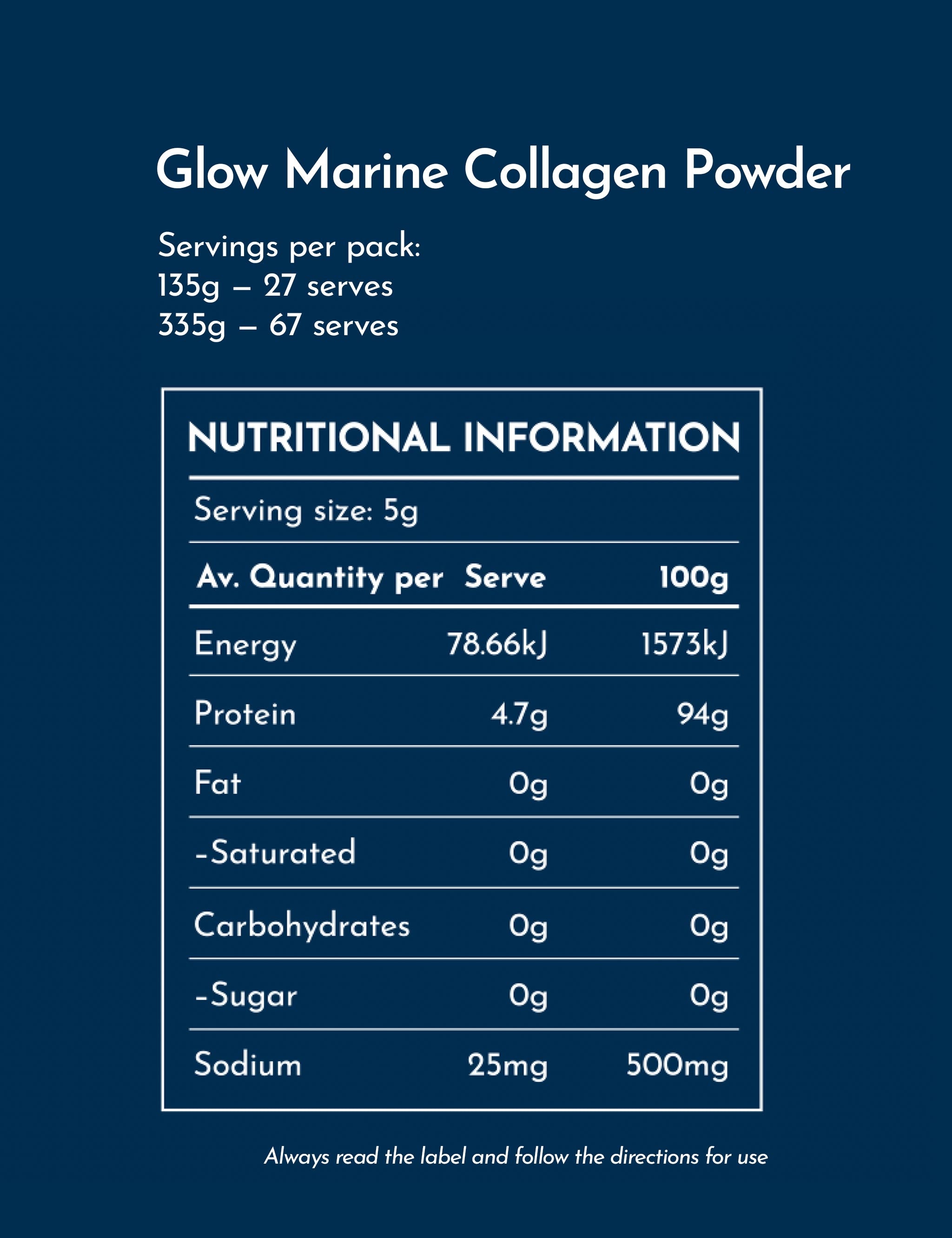 SOOTHE + REPAIR YOUR SKIN AT A TIME WHEN YOU NEED IT MOST

Specially curated to support you during peri-menopause and menopause. Peri + Meno Relief is formulated to support hot flushes, night sweats and cognitive function. It also helps to soothe skin inflammation. Combine this with GLOW Marine Collagen – the most superior hydrolysed, unflavoured collagen for glowing skin that radiates from within. Daily supplementation smooths fine lines, promotes skin hydration and helps reduce wrinkles.

Includes: PERI + MENO RELIEF; GLOW Marine Collagen Powder 335g

Got questions? Check our FAQs below or email us at hello@swiish.com.au
Benefits
PERI + MENO RELIEF
— Relieves excessive and spontaneous sweating
— Relieves night sweats and hot flushes
— Soothes skin inflammation
— Supports cognitive and mental function
— Relieves sleeplessness
— Supports bone health
— Reduces mild joint aches and pains

GLOW MARINE COLLAGEN POWDER
— Helps reduce fine lines, wrinkles and signs of ageing
— Promotes skin strength, elasticity and hydration
— Hydrolysed for maximum absorption + over 95% bioavailable
Directions
PERI + MENO RELIEF
Adults — take 1 tablet once daily, with water, or as directed by your healthcare professional.

Always read the label and warnings. Do not use if breastfeeding, or pregnant, or likely to become pregnant. Do not use if tamper-evident seal is missing, torn or broken. Follow the directions for use. In very rare cases, black cohosh has been associated with liver failure. If you are experiencing yellowing of the skin or whites of the eyes, dark urine, nausea, vomiting, unusual tiredness, weakness, stomach or abdominal pain, and/or loss of appetite, you should stop using this product and see your doctor. Store below 25°C in a cool, dry place. This product may only be of assistance if dietary intake is inadequate.

GLOW MARINE COLLAGEN POWDER
Add 2 teaspoons daily to any hot or cold drink or food and stir well.
Ingredients
PERI + MENO RELIEF: Actaea racemosa root (Black cohosh) extract dry concentrate 47 mg, derived from dry root and rhizome 302 mg; Eleutherococcus senticosus (Siberian ginseng) extract dry concentrate 133 mg, derived from dry root 2 g; Angelica polymorpha (Dong quai) extract dry concentrate 250 mg, derived from dry root 5 g; Salvia officinalis (Sage) extract dry concentrate 243 mg, derived from dry leaf 1.7 g; Ziziphus jujuba var. spinosa (Jujube) extract dry concentrate 30 mg, derived from dry seed 1.5g; Zinc citrate dihydrate 25 mg, equivalent Zinc 8 mg.
GLOW MARINE COLLAGEN POWDER: 100% Hydrolysed Marine Collagen Peptides (5000mg per serve). Allergens: Contains Fish.
FAQs
What we leave out:
Free from gluten, dairy, lactose, soy, sugar and nuts.
How long will it take for my menopause symptoms to improve?
You may notice improvements within a few weeks. But for some women, menopausal symptoms should begin to subside within 4-8 weeks. Symptoms are, of course, unique to the individual.
Can I have these products while pregnant or breastfeeding?
We don't recommend SWIISH Peri + Meno Relief or Hair & Metabolism during pregnancy or breastfeeding. Please refer to the nutritional information & ingredients list. GLOW Marine Collagen is safe to consume while pregnant and breastfeeding. However, as everyone's situation is different, we recommend that you check with your healthcare professional first to see if this powder would be beneficial for you. Please refer to the nutritional information & ingredients list.

Is there any benefit to taking Peri + Meno Relief if you're not in menopause (excluding pregnancy & breastfeeding)?
Yes — this formulation is rich in antioxidants and also supports a range of other areas of health including menstrual health/PMS symptoms, immune support, wound healing, sleep disturbances, nervousness, irritability, sluggish digestion, oral health and blood sugar regulation.

Will it help me if I'm in the middle of a hot flush?
The best approach is a consistent one — with daily use of Peri + Meno Relief you will notice a decrease in menopausal symptoms. It's not like a headache tablet, it's a supplement — consistent use yields best results.
Can you have Peri + Meno Relief if you're also on HRT?
Black cohosh can interact with some medications, including hormone replacement therapy, and may cause side effects or reduce the effectiveness of the medication. It is important to consult with a healthcare provider before taking black cohosh if you are on hormone replacement therapy or any other medications. Your healthcare provider can advise you on whether it is safe for you to take black cohosh while on hormone replacement therapy or if there are any potential risks or interactions to be aware of.

Where does your collagen come from?
The collagen used in our GLOW Marine powder is produced in Europe in ISO 9001 and FSSC 22000 quality accredited manufacturing facilities, thus ensuring the highest quality standards are applied. It's then proudly packaged right here in Australia, also under the strictest of standards.

How long before I see results with my skin?
According to extensive scientific research, you can expect to see results within 4 weeks of taking it daily. You should see skin become more hydrated, then an improvement in fine lines and wrinkles by about 6–8 weeks. By the 10–12 week mark, most people notice an increase in skin elasticity and firmness.
The Science
PERI + MENO RELIEF — Night Sweats
A night sweat is a hot flush that happens at night as a result of changing hormones. It is the sudden flushing of warmth in the upper body, often causing excessive sweating and they may disrupt your sleep. Jujube (Ziziphus jujuba var. spinosa) is traditionally used to prevent excessive sweating (hyperhidrosis) and spontaneous night sweating. Similarly, Sage (Salvia officinalis) is traditionally used to reduce excessive perspiration and sweats associated with menopause. Likewise, Black cohosh (Actaea racemosa root) is frequently used for the relief of menopausal complaints such as night sweats.
(Blumenthal M et al. Herbal Medicine. Expanded Commission E monographs, American Botanical Council, Texas. 2021.)
(Braun L and Cohen M. Herbs and Natural Supplements. An Evidence Based Guide, 4th ed. Elsevier Mosby. 2015; pp870-875.)
(Willard T. The Wild Rose Scientific Herbal. Wild Rose College of Natural Healing. 1991; pp304-306.)
(European Medicines Agency Final European Union herbal monograph on Cimicifuga racemosa (L.) Nutt., rhizome - Revision 1. 2018.)
PERI + MENO RELIEF — Hot Flushes
A hot flush is the sudden feeling of warmth in the upper body and is usually most intense over the face, neck and chest, often causing excessive sweating. Sage (Salvia officinalis) is frequently used in herbal medicine to help reduce hot flushes and/or night sweats associated with menopause. Similarly, Black cohosh (Actaea racemosa root) is often used for the relief of menopausal complaints such as hot flushes and profuse sweating.
(Health Canada Monographs Sage — Salvia officinalis, Oral. 30 Oct 2018)
(Duke, J. Handbook of Medicinal Herbs. CRCPress. 2002. pp642-643. Altered cognitive and/or mental function.) 
(European Medicines Agency Final European Union herbal monograph on Cimicifuga racemosa (L.) Nutt., rhizome - Revision 1. 2018)
PERI + MENO RELIEF — Mental & Cognitive Health
One of the most common symptoms reported in menopause is a deficit in attention, processing speed and memory which often results in a lack of focus and forgetfulness. Siberian Ginseng (Eleutherococcus senticosus) has been shown to improve mental performance and support mental exhaustion, resulting in increased concentration along with improved attention and mental speed. Similarly, Zinc has been studied for its contribution to normal cognitive function and memory formation.
(ESCOP 2nd Ed, 2003. European Scientific Co-operative on Phototherapy (ESCOP) Series 2nd ed. Theime. pp142-149)
(Mills S & Bone K. Principles and Practice of Phytotherapy, 2nd Ed. Churchill Livingstone. 2013. pp. 818-825)
(EFSA Journal European Food Safety Agency. EFSA Journal Zinc related health claims. 2009; 7(9): 1229)
GLOW Marine Collagen Powder
Collagen is the most abundant protein in the human body with over 28 known types. Of these, Type 1 collagen is involved in skin, hair, nail, and gut health predominantly, and is the type of collagen used in our GLOW Hydrolysed Collagen Powder. The other types of collagen are involved in other processes in the body such as joint, cartilage, and bone health. Studies show that 10g per day of collagen is recommended for helping maintain skin strength and elasticity. One serving of any of our GLOW Collagen Powders equates to 5g of collagen, which is why we suggest two servings per day for optimal support. This 10g daily amount not only provides your body with adequate collagen, but assists it in generating its own. When collagen peptides are ingested, they stimulate fibroblast proliferation – the process responsible for collagen production. (Fibroblasts are a type of cell that synthesises collagen. Other than contributing to skin health, they also play an important role in wound and injury healing).
(Barati, M., Jabbari, M., Navekar, R., Farahmand, F., Zeinalian, R., Salehi-Sahlabadi, A., Abbaszadeh, N., Mokari-Yamchi, A., & Davoodi, S. H. (2020). Collagen Supplementation for Skin Health: A Mechanistic Systematic Review. Journal of cosmetic dermatology, 19(11), 2820–2829)

GLOW Marine Collagen Powder — Skin Hydration
As well as helping improve the texture and complexion of skin, collagen also contains prolyl-hydroxyproline which has been shown to trigger hyaluronic acid production. Subsequently, this increases skin's water content and hydration — particularly important in the cooler/dryer months when dry skin can become an issue.
(Inoue, N., Sugihara, F., & Wang, X. (2016). Ingestion of Bioactive Collagen Hydrolysates Enhance Facial Skin Moisture and Elasticity and Reduce Facial Ageing Signs in a randomised double-blind placebo-controlled clinical study. Journal of the science of food and agriculture, 96(12), 4077–4081)

GLOW Marine Collagen Powder — Signs Of Ageing
A recent systematic review looked at 11 major studies that assessed the use of collagen for skin health and signs of ageing. The results demonstrated a significant improvement in skin elasticity, hydration, and dermal collagen density (the amount of collagen found in skin), as well as wound healing and overall signs of ageing. The amount of collagen supplementation examined in these studies was 2.5g–10g daily. These findings also showed that collagen supplementation is generally considered safe with no reported adverse side effects.
(Choi FD, Sung CT, Juhasz ML, Mesinkovsk NA. Oral Collagen Supplementation: A Systematic Review of Dermatological Applications. J Drugs Dermatol. 2019 Jan 1;18(1):9-16. PMID: 30681787)

GLOW Marine Collagen Powder — Fast Absorption
The reason hydrolysed protein (including collagen) is a far more efficient and effective source of collagen is that it has been broken down into single amino acids (via a chemical reaction that uses water molecules) making it easily dissolvable in water. After consumption, these hydrolysed collagen peptides take only approximately 15 minutes to enter the bloodstream. From here, studies have shown it takes only 30–45 minutes before they're then found in the skin matrix (the area that produces collagen just below the skin surface).

GLOW Marine Collagen Powder — Gut Health
As well as being a vital protein for maintaining skin strength and elasticity, collagen is also incredibly important for gut health. Studies have shown that collagen can improve a dysfunctional gut barrier (such as leaky gut) by enhancing tight junctions. Think of it like having puzzle pieces that fit perfectly together, that way nothing can get through your gut barrier that shouldn't! When tight junctions aren't functioning properly allowing foreign bodies to enter the gut, this can cause pain, bloating, and inflammation – collagen can help alleviate this.
(Chen, Q., Chen, O., Martins, I. M., Hou, H., Zhao, X., Blumberg, J. B., & Li, B. (2017). Collagen peptides ameliorate intestinal epithelial barrier dysfunction in immunostimulatory Caco-2 cell monolayers via enhancing tight junctions. Food & function, 8(3), 1144–1151)