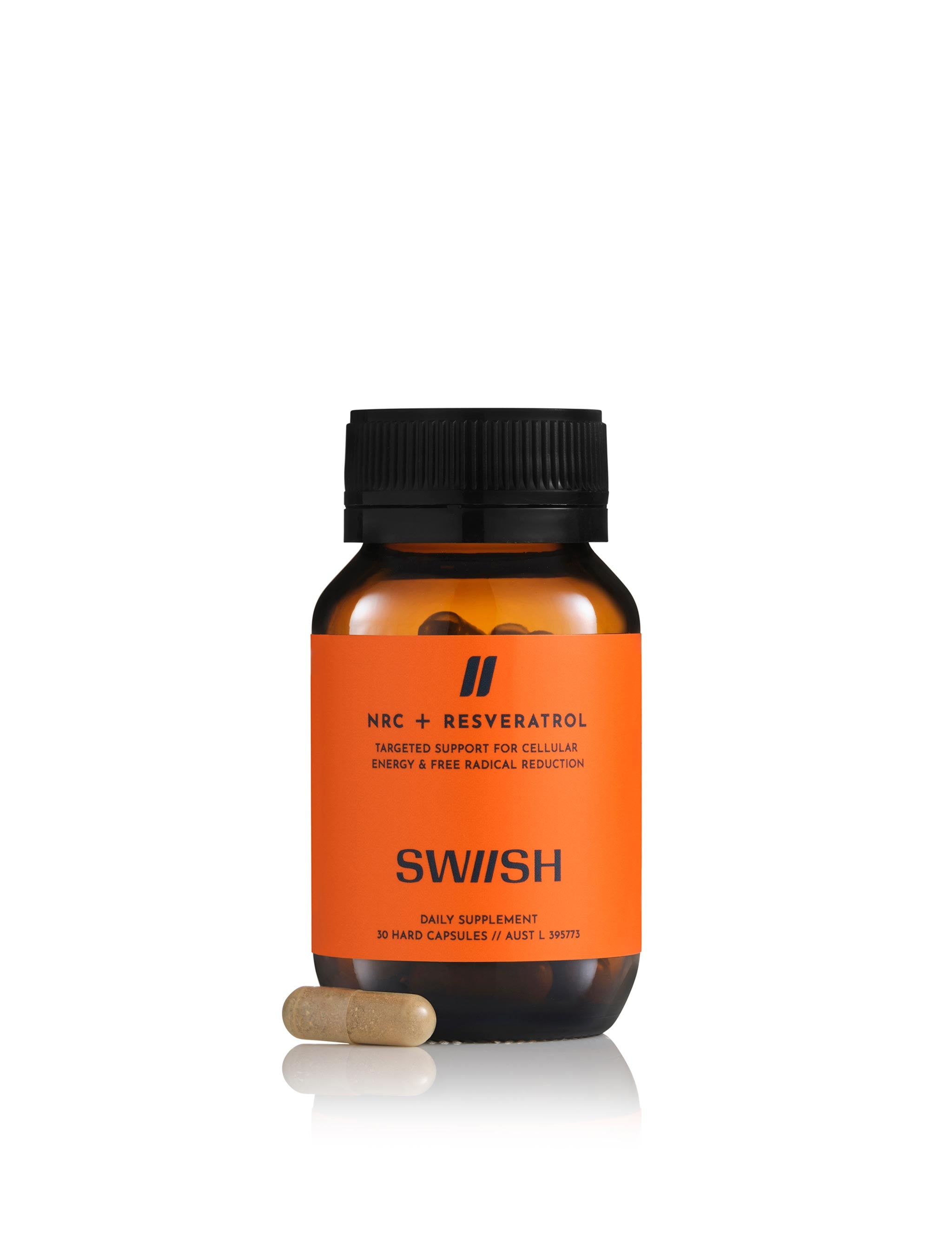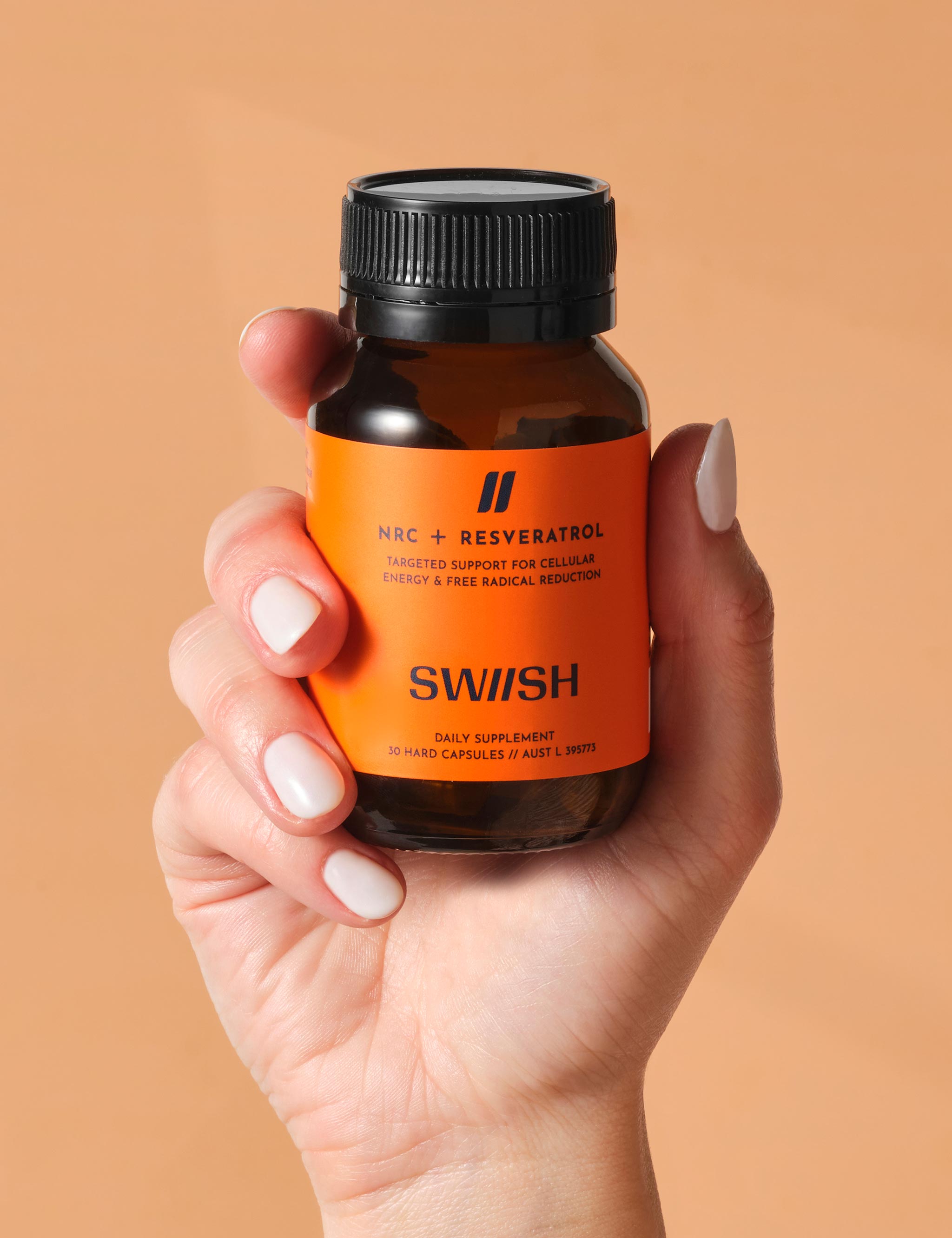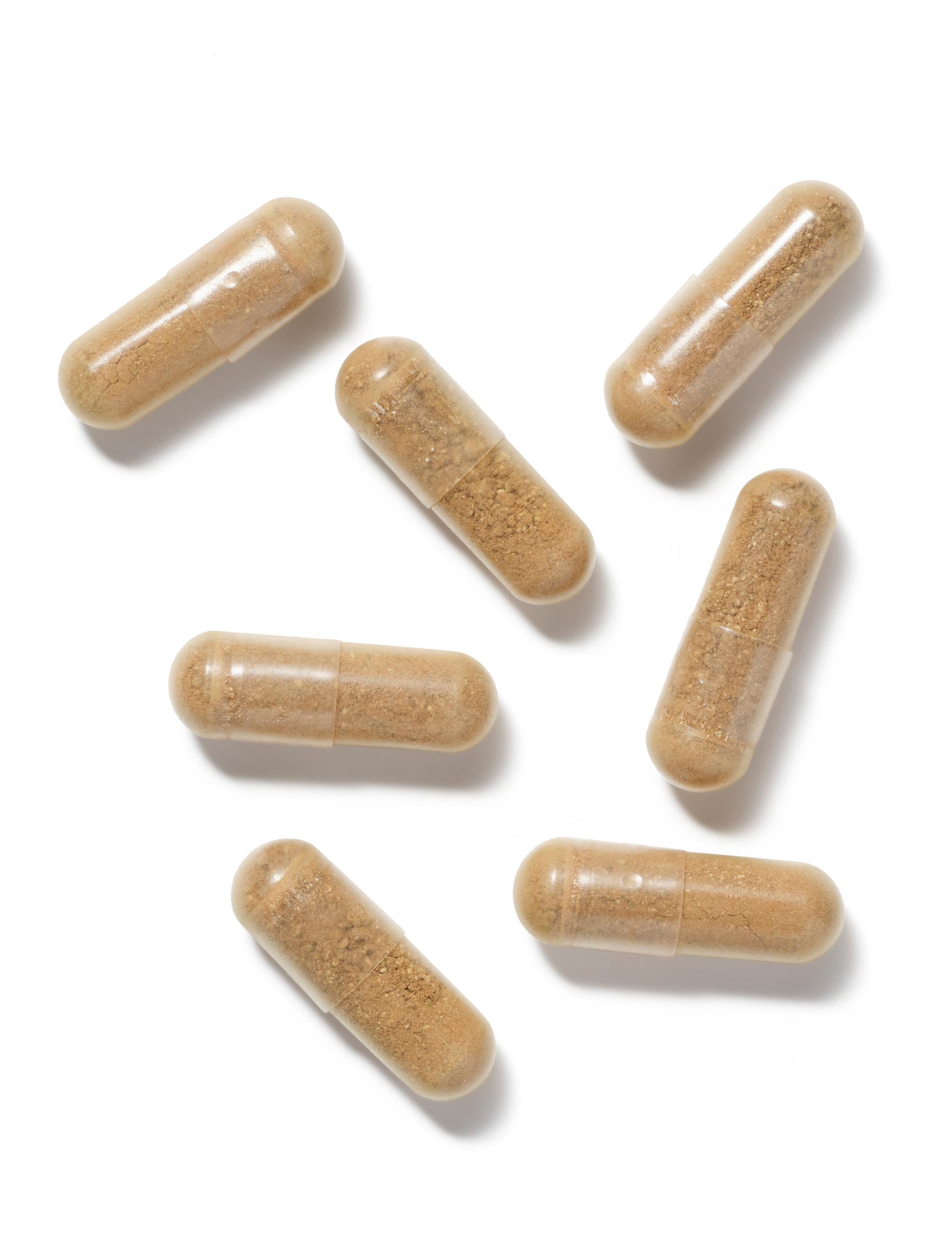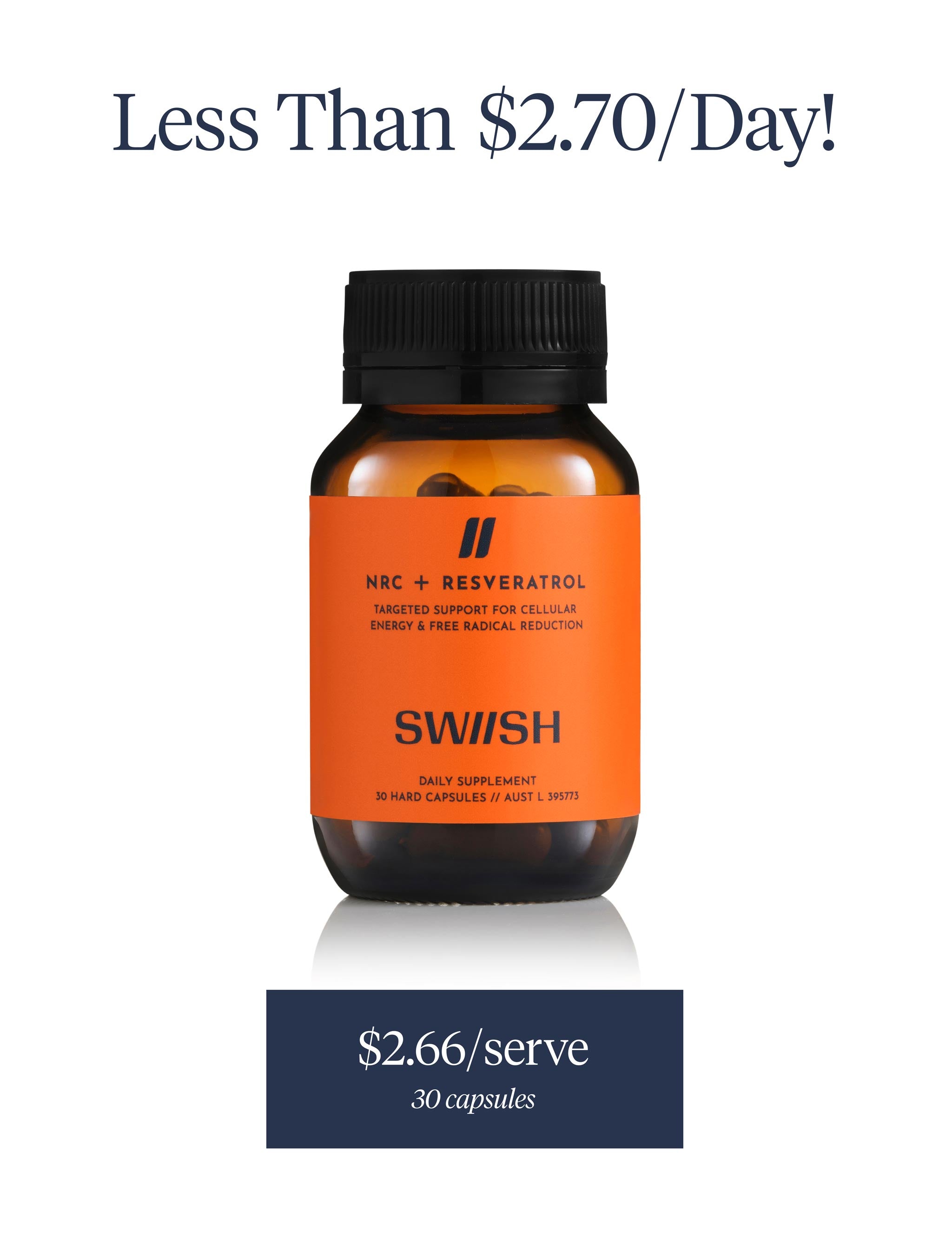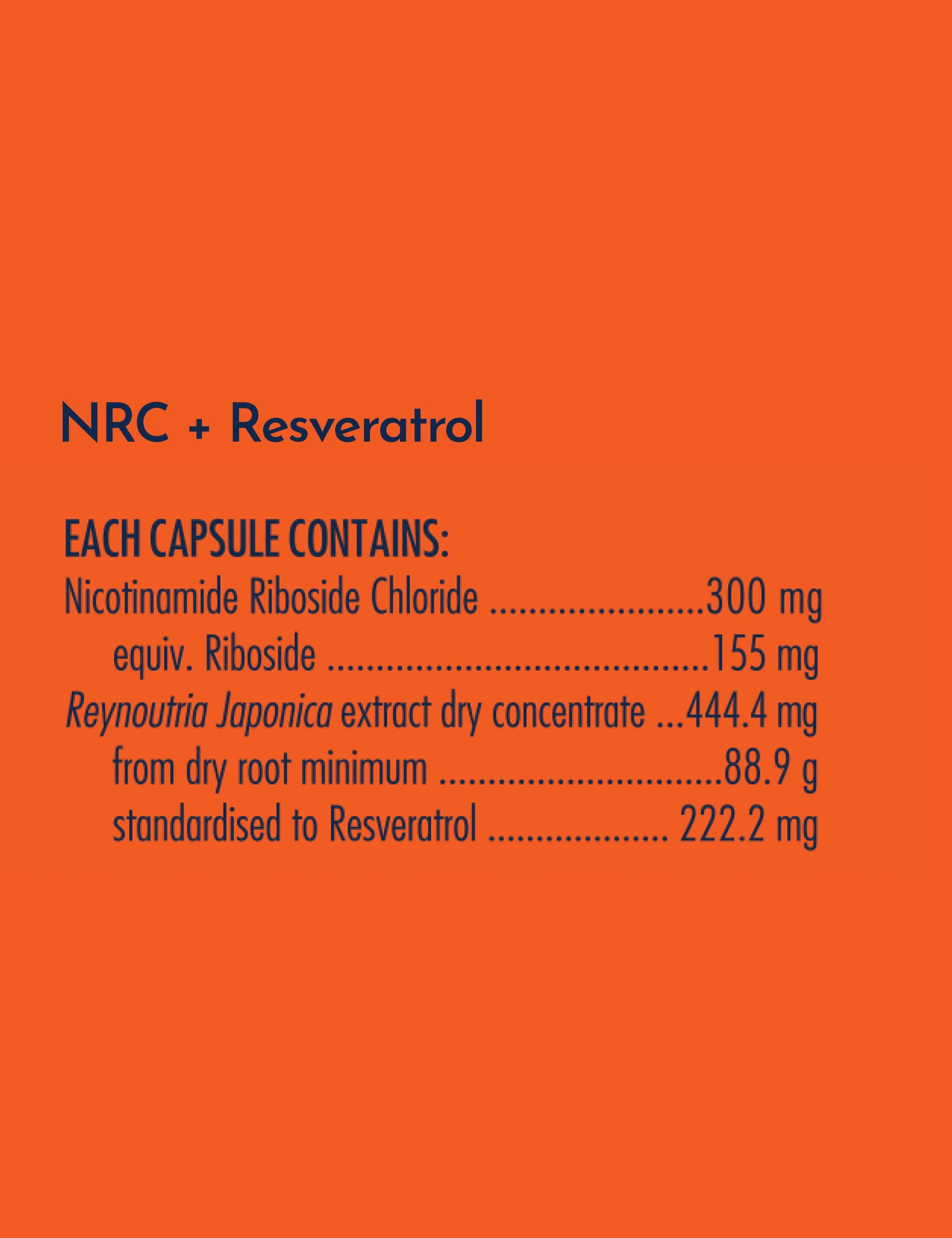 NAD+ boosting supplement. NAD is vital for every single process in your body. Involved in more than 400 cellular functions, it works to protect our bodies from the ageing process. NRC has been clinically proven to boost NAD levels by approximately 51% within 14 days. Resveratrol has been shown to mimic calorie restriction and this activates longevity pathways by signalling to proteins called sirtuins to start repairing DNA. Resveratrol works synergistically with NAD+ boosters – like NRC – that supply the fuel for these sirtuins. In general terms, when you combine Resveratrol and NRC you get an anti-ageing, longevity powerhouse.

SIZE: 30 capsules

Got questions? Check our FAQs below or email us at hello@swiish.com.au
Benefits
— Reduces free radicals formed in the body
— Supports energy levels and energy production
— Supports general health and wellbeing
— Supports nervous system function
— Supports skin health
Find out more here.
Directions
Adults only — take 1 capsule once daily, with water, or as directed by your healthcare professional.

Always read the label and warnings. Vitamins & minerals can only be of assistance if dietary intake is inadequate. Not suitable for children. Not recommended for use during pregnancy or breastfeeding. Resveratrol may affect the way some medicines work, including Warfarin. Consult your health professional before taking with other medicines. Do not use if tamper-evident seal is missing, torn or broken. Store below 25°C in a cool, dry place away from direct heat and sunlight.
Ingredients
Nicotinaminde Riboside Chloride 300mg, equivalent Riboside 155mg; Retnoutria Japonica extract dry concentrate 444.4mg from dry root, minimum 88.9g standardised to Resveratrol 222.2mg.
♻︎ All SWIISH packaging can be recycled in your normal household recycling.
FAQs
What we leave out:
Free from gluten, dairy, lactose and nuts.
Can anyone take this product?
NRC + Resveratrol is designed for adults. Take 1 capsule with water, or as directed by your health professional. Always read the label and warnings. Not recommended for use during pregnancy or breastfeeding.
What makes this product unique?
NRC + Resveratrol is specially formulated to offer targeted support for cellular energy and free radical reduction. NRC is a special compound that can be used by your body to make an enzyme known as "Nicotinamide Adenine Dinucleotide" or NAD for short. NAD is vital for every single process in your body — it's involved in more than 400 cellular functions. It works to protect our bodies from the ageing process and from disease.

NAD declines as we age. And DNA damage increases — it snowballs as we get older. Every day we are exposed to so many stressors and toxins — from work, immune issues, sun exposure, stress, overeating, alcohol consumption, the list goes on. Your body enlists NAD to undertake this repair.

So now you have two problems — NAD is in decline but your DNA damage is on the up. So what's the solution? NAD supplementation. How do you do this? The most efficient way is with NRC, a precursor to NAD. In other words, supplementing NRC helps create NAD for the body to use.

NRC has been clinically proven to boost NAD levels by around 51% within 14 days.

We've combined NRC with Resveratrol — an antioxidant well-studied for its anti-ageing benefits. The reason we've done this is that you need both — resveratrol is like the electricity that charges the battery (NAD) to power your body. The beauty of resveratrol is that it fights free radicals which, as we know, damage cells and lead to ageing. Studies have shown that it mimics calorie restriction and this activates longevity pathways by signalling to specific proteins called sirtuins to start repairing DNA. Resveratrol works synergistically with NAD+ boosters – like NRC – that supply the fuel for these sirtuins.

What is NAD and why is it important?
NAD is a vital enzyme involved in over 400 cellular functions. It helps protect the body from the ageing process and diseases. NAD levels decline as we age.
How can you address the decline in NAD levels?
The most efficient way to address declining NAD levels is through NRC supplementation, which is a precursor to NAD.
What benefits does resveratrol offer in this supplement?
Resveratrol, an antioxidant, complements NRC by fighting free radicals, mimicking calorie restriction and activating longevity pathways to repair DNA.
Can I take it with other medications?
Resveratrol may affect the way some medications work, including Warfarin. We are unable to provide exact advice on whether it is safe to consume whilst taking other specific medications. As everyone's situation is different, we recommend that you check with your healthcare professional to see if this supplement would be beneficial for you. Please refer to the nutritional information & ingredients list.
Can I have it while pregnant or breastfeeding?
SWIISH NRC + Resveratrol is not recommended during pregnancy or whilst breastfeeding.

The Science
Effectively Enhances NAD+
Nicotinamide riboside is a natural compound that effectively enhances NAD+ biosynthesis and has health benefits. NR also offers an opportunity to boost NAD+ levels beyond what is achievable through conventional B vitamin metabolism.
(Yoshino J, Baur JA, Imai SI. NAD+ Intermediates: The Biology and Therapeutic Potential of NMN and NR. Cell Metab. 2018;27(3):513-528. doi:10.1016/j.cmet.2017.11.002)
Antioxidant/Reduces Free Radicals Formed In The Body
Resveratrol is a polyphenolic compound that exists in nature as cis-trans stereoisomers. Polygonum cuspidatum (Hu Zhang), the roots of which are used in Chinese and Japanese traditional medicine, is considered to be one of the richest sources of trans-resveratrol. In humans and laboratory research, resveratrol appears to reduce levels of oxidative compounds and protect against oxidation. Trans-resveratrol has antioxidant and anti-inflammatory activity.
(Gregory, P J, et al; Natural Medicines, Therapeutic Research Centre, February 2021)
Resveratrol Possesses Antioxidation, Anti-inflammation And Anti-Ageing Effects
Resveratrol possesses antioxidation, anti-inflammation, and anti-ageing effects.
(Banez et al., 2020)

A number of foods and their isolated components have been reported as valuable immunomodulators. Research has shown the abilities of a plethora of phytochemicals to stimulate, suppress and modulate both the innate immune cells, such as macrophages, dendritic, natural killer cells and acquired immune cells, that is B and T lymphocytes.
(Yahfoufi et al., 2018; Mileo et al., 2019)

The latter have the potential to prevent diseases in healthy individuals, as well as to alleviate symptoms in persons with compromised immune systems, mainly by regulating inflammatory responses and free radical scavenging activities.
(Bagchi D & Ohia S E, Nutrition and Functional Foods in Boosting Digestion, Metabolism and Immune Health, Academic Press, 2021.pp.467,506)
Janelle S.

Verified Buyer

Another wonderful product from Swiish

Happy with this will keep taking .

So happy!!

I have been taking resverstrol for three weeks and I am so happy with results already . I cannot believe such an improvement in my overall wellness & strength during my exercise regimen. I feel very grateful to have found your product….Thankyou so much …love your products & philosophy…kind regards Ann

Skin glow!

I'm onto my 2nd bottle and I've definitely seen a noticeable difference in my skin texture. I am very biased when it comes to resveratrol, I think it's a game changer!

Just Buy It! You will love it!

I bought this product as soon as it was launched. I just knew it was going to be good. I'm on to my 2nd bottle and love it!

I have felt my energy levels increase and the only way I can describe it is that I feel like I have oxygen in my body. It has helped me get my energy back and I just don't want to stop taking it.

Ps. I'm really fussy with my supplements and this one is a daily must have.

I do not recommend this product

NRC + Resveratrol

I've finished my first bottle - and I'm not feeling or seeing any changes yet

SWIISH

53 minutes ago

Hi Karen,

Thanks so much for taking the time to provide this feedback - We really appreciate it.

NRC has been clinically proven to boost NAD levels by approximately 51% within 14 days, and best results come from consistency, particularly as NAD continues to decline as we age. So much of this is about boosting NAD levels to assist with DNA repair, so you won't necessarily see or feel any obvious changes right away, even though they are happening.

Please don't hesitate to reach out if you have any questions.
Reviews Loaded
Reviews Added