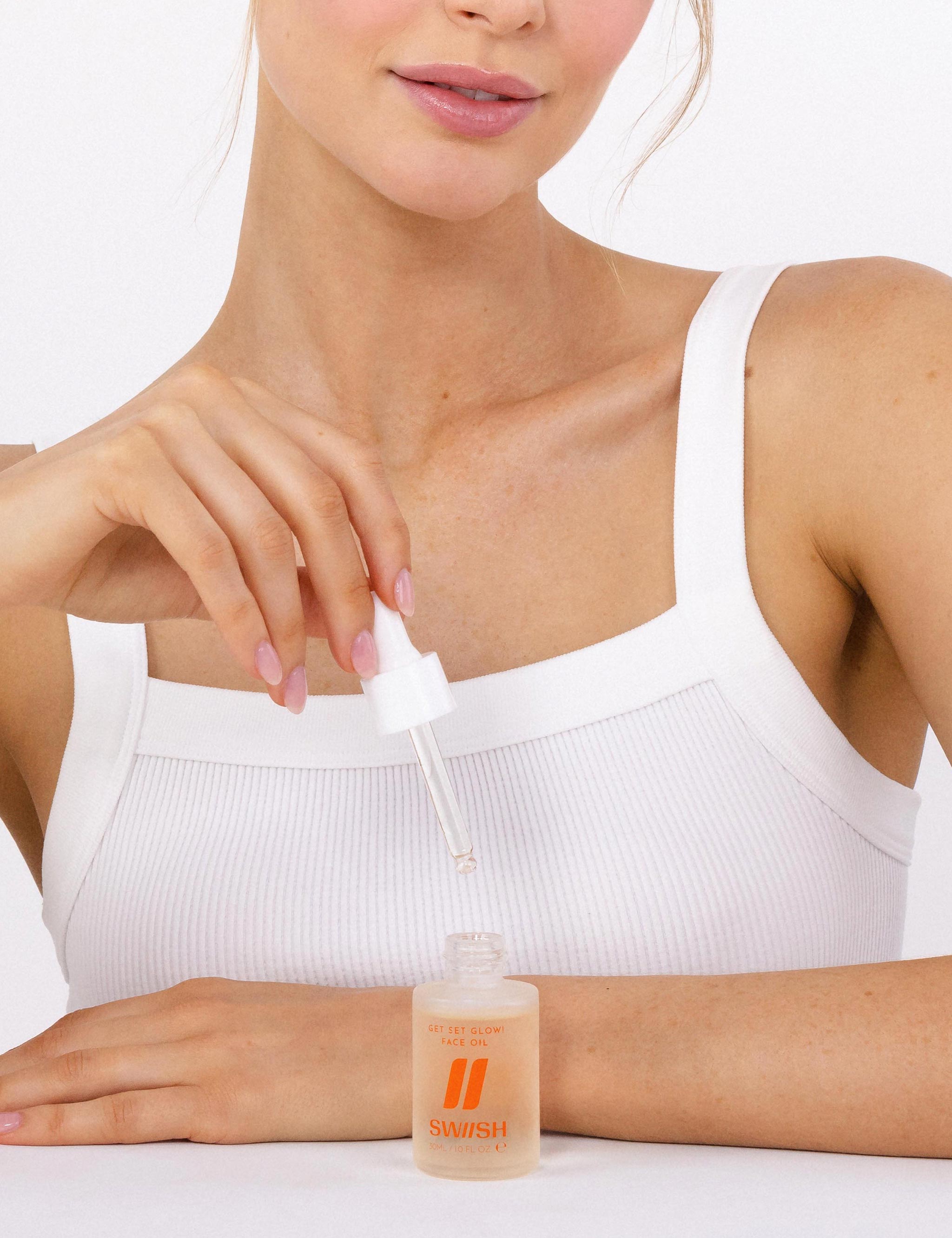 BOOST YOUR SKIN GLOW, SMOOTH & CONTOUR

The gua sha is designed to promote circulation and blood flow, thus supporting collagen production. When combined with the Get, Set, Glow! Face Oil, your complexion is left smooth and radiant.

Includes: Get, Set, Glow! Face Oil; Rose Quartz Gua Sha

Got questions? Check our FAQs below or email us at hello@swiish.com.au
Benefits
GET, SET, GLOW FACE OIL
— A powerful blend of nourishing oils, Squalane and Vitamin E
— Encourages skin cell renewal
— Packed with powerful antioxidants for a lit-from-within glow
ROSE QUARTZ GUA SHA
— Supports collagen production
— Improves circulation and blood flow
— Relieves facial tension
— Improves skin contour and definition
♻︎ All SWIISH packaging can be recycled in your normal household recycling.
Directions
GET, SET, GLOW! FACE OIL
After cleansing, apply 4-5 drops to your face and neck and gently pat or massage in.

ROSE QUARTZ GUA SHA
1. To a cleansed face, apply your oil, serum or cream of choice.
2. Using medium pressure, hold the Gua Sha with the curved side to your face and glide it gently upwards and outwards.
3. Start with the neck, jawline, chin and around the mouth, gliding the Gua Sha along the skin in smooth motions 3-5 times per area.
4. Rinse your Gua Sha with warm, soapy water. Dry and store it at room temperature.
Ingredients
GET, SET, GLOW! FACE OIL
Caprylic/Capric Triglyceride, Camellia Oleifera Seed Oil, Citrullus Lanatus Seed Oil, Prunus Armeniaca Kernel Oil, Persea Gratissima Oil, Squalane, Opuntia Ficus-Indica Seed Oil, Rosa Eglanteria Seed Oil, Simmondsia Chinensis Seed Oil, Punica Granatum Seed Oil, Terminalia Ferdinandiana Seed Oil, Actinidia Chinensis Seed Oil, Plukenetia Volubilis Seed Oil, Ribes Nigrum Seed Oil, Vaccinium Macrocarpon (Cranberry) Seed Oil, Plukenetia Volubilis Seed Oil, Hippophae Rhamnoides Seed Oil, Helianthus Annuus Seed Oil, Glycine Soja Oil, Prunus Amygdalus Dulcis Oil, Daucus Carota Sativa Root Extract, Salvia Hispanica Seed Oil (Chia Seed Oil), Rosmarinus Officinalis Leaf Extract (Rosemary Leaf Extract), Tocopherol (Vitamin E), Rubus Idaeus Seed Oil, Olea Europaea Fruit Oil, Citrus Paradisi Peel Oil, Citrus Aurantium Bergamia Fruit Oil, Jasminum Grandiflorum Flower Extract, Limonene, Linalool, Geraniol.
FAQs
What we leave out:
Parabens, sulphates.
Is the face oil suitable for all skin types?
Yes. Get, Set, Glow! Face Oil is suitable for all skin types — including normal, combination, oily, dry, and sensitive — thanks to the gentle formulation.

When should I use the face oil in my skincare routine?
Get, Set, Glow! Face Oil is designed to be used towards the end of your skincare routine — so after cleanser, exfoliator and toner.
Are there any other ways to use this face oil?
When your skin is feeling extra parched, add a few drops into your moisturiser for an extra dose of hydration.
Can I mix this face oil with my foundation?
Yes, you can use it together with liquid foundation to achieve a more hydrating, luminous finish. Because a little goes a long way, start with 1-2 drops of oil and thoroughly mix together before applying it to your face.
How often should I use the gua sha?
As often as you like. We recommend using the Rose Quartz Gua Sha a few times a week.
The Science
Camellia Oleifera (Camellia) Seed Oil
Camellia Oil is a lightweight, non-comedogenic oil that moisturises and nourishes the skin leaving it soft and smooth. It contains antioxidants, vitamins and fatty acids, which help protect the skin from free radicals, promote a youthful complexion and maintain a healthy skin barrier.
(Chaiyana, W.; Leelapornpisid, P.; Jakmunee, J.; Korsamphan, C. Antioxidant and Moisturizing Effect of Camellia assamica Seed Oil and Its Development into Microemulsion. Cosmetics 2018, 5, 40.)
(Xiaomei, X; Liangmei, H; Yayun, C; Longhuo, W; Lin, W, Zhiping, L. Anti-inflammatory and antioxidative effects of Camellia oleifera Abel components. Future Medicinal Chemistry VOL. 9, NO. 17.)

Citrullus Lanatus (Watermelon) Seed Oil
Watermelon Seed Oil is a lightweight, non-greasy oil that moisturises and hydrates the skin leaving it soft and supple. It is high in antioxidants, vitamins and essential fatty acids which help to protect the skin from oxidative damage, support a healthy skin barrier and promote a radiant complexion.
(B. Komane, I. Vermaak, G. Kamatou, B. Summers, A. Viljoen, The topical efficacy and safety of Citrullus lanatus seed oil: A short-term clinical assessment, South African Journal of Botany, Volume 112, 2017.)

Prunus Armeniaca Kernel Oil
Also known as Apricot Kernel Oil, has several skincare benefits. It is a lightweight, fast-absorbing oil that hydrates and moisturises the skin leaving it soft and hydrated. It is high in vitamins, antioxidants and essential fatty acids which help to protect the skin from environmental damage, promote a youthful appearance and improve skin texture and tone.
(Anshika Sharma, Devina Vaidya, Anil Gupta and Manisha Kaushal. Formulation and evaluation of wild apricot kernel oil based massage cream. J Pharmacogn Phytochem 2019;8(1):1017-1021.)