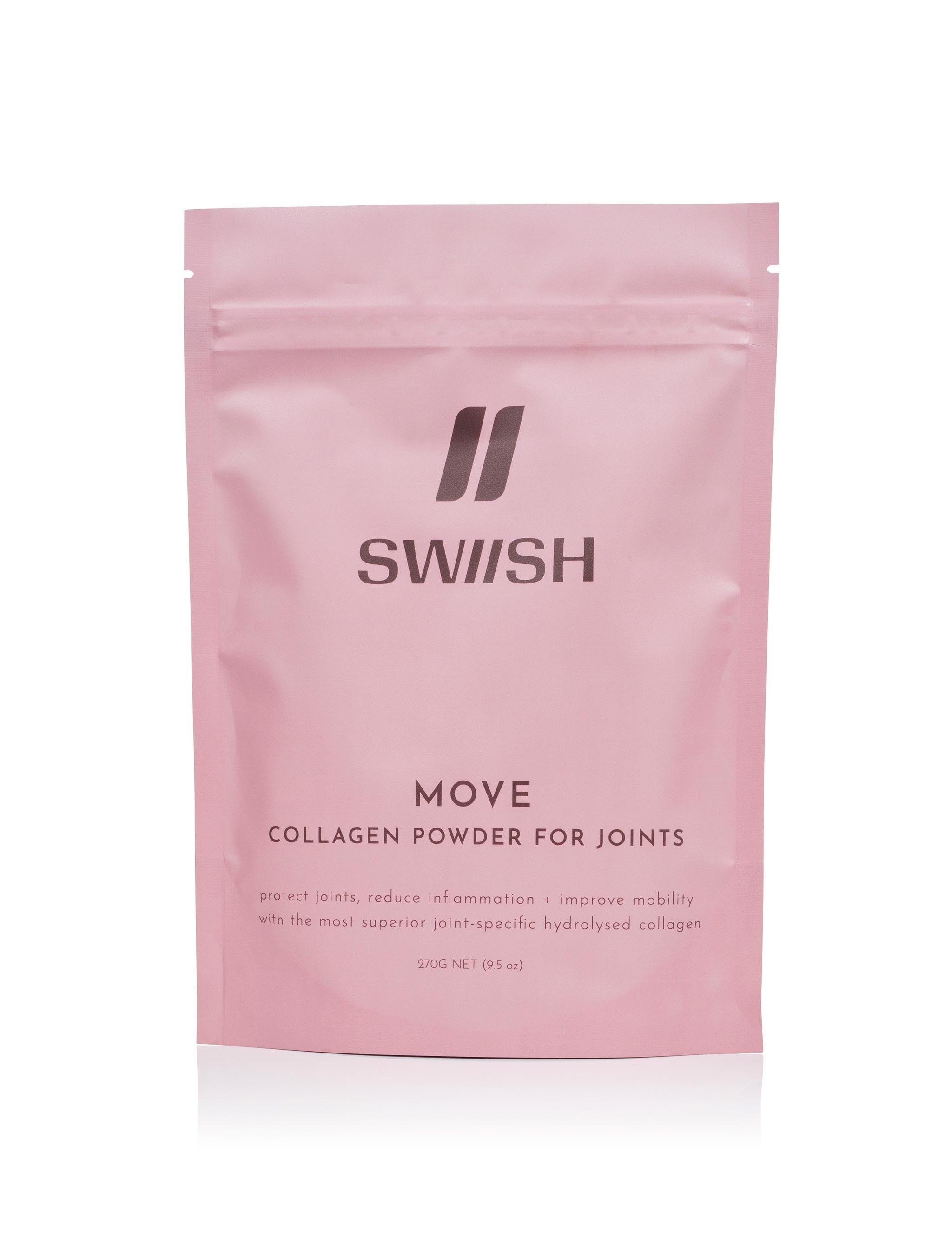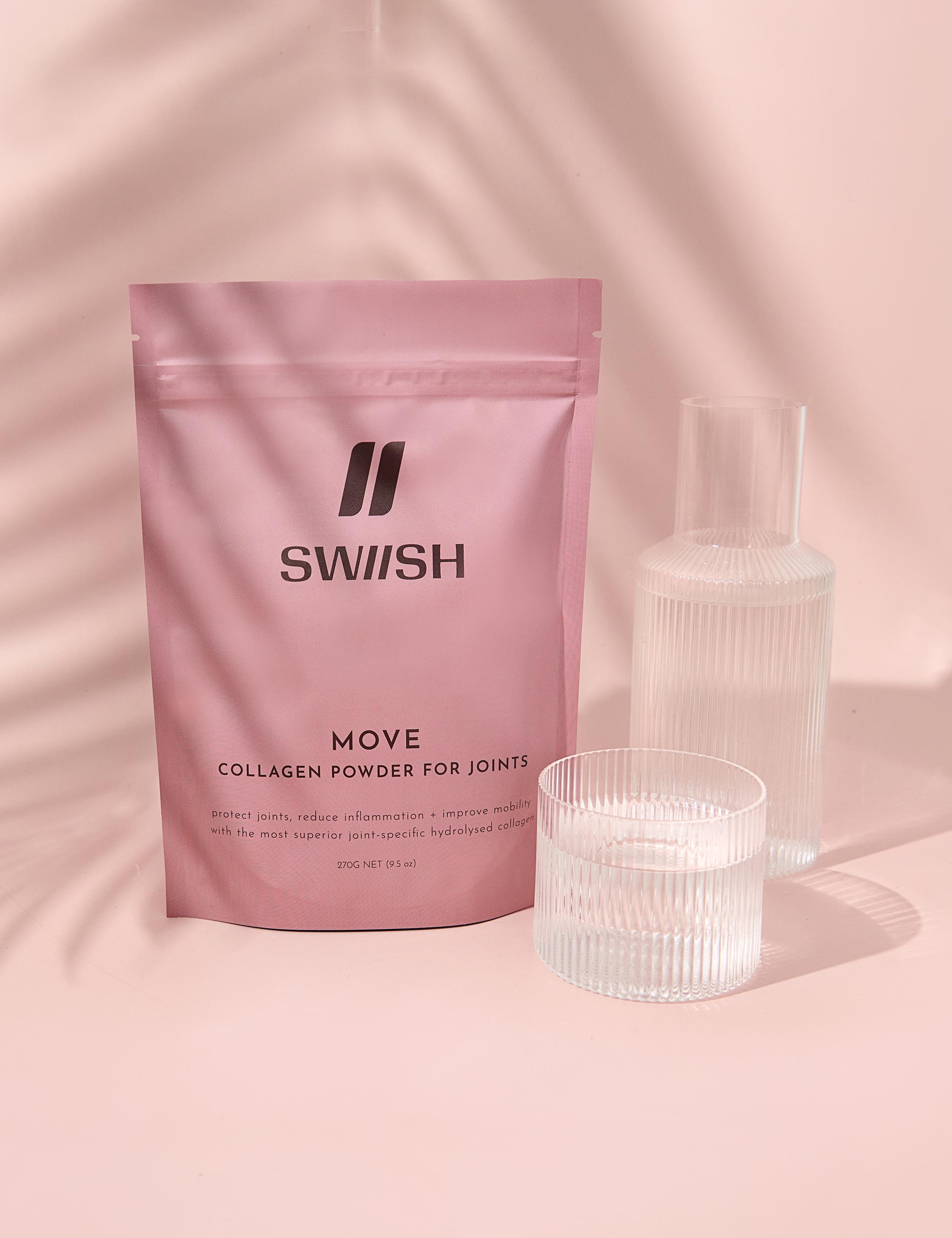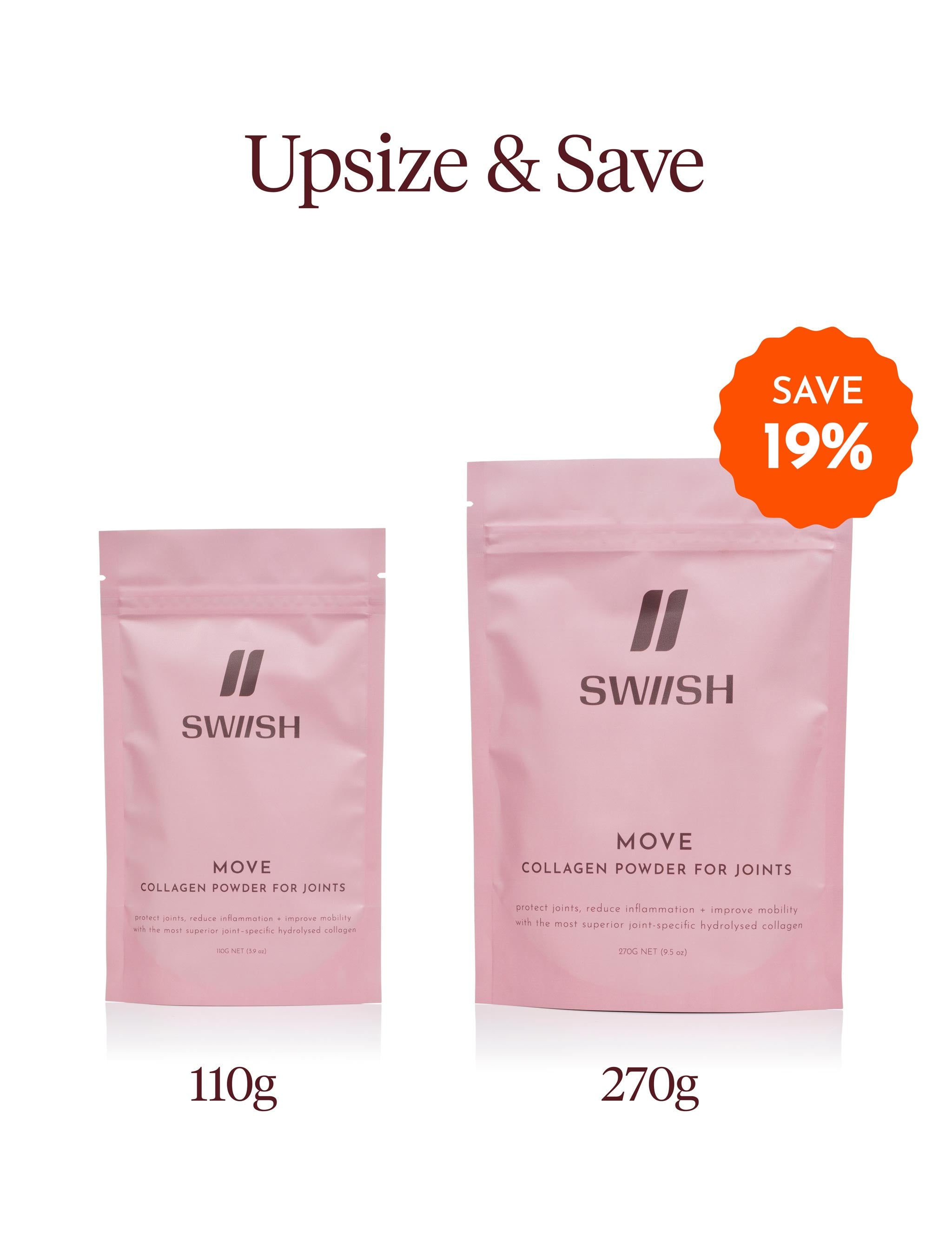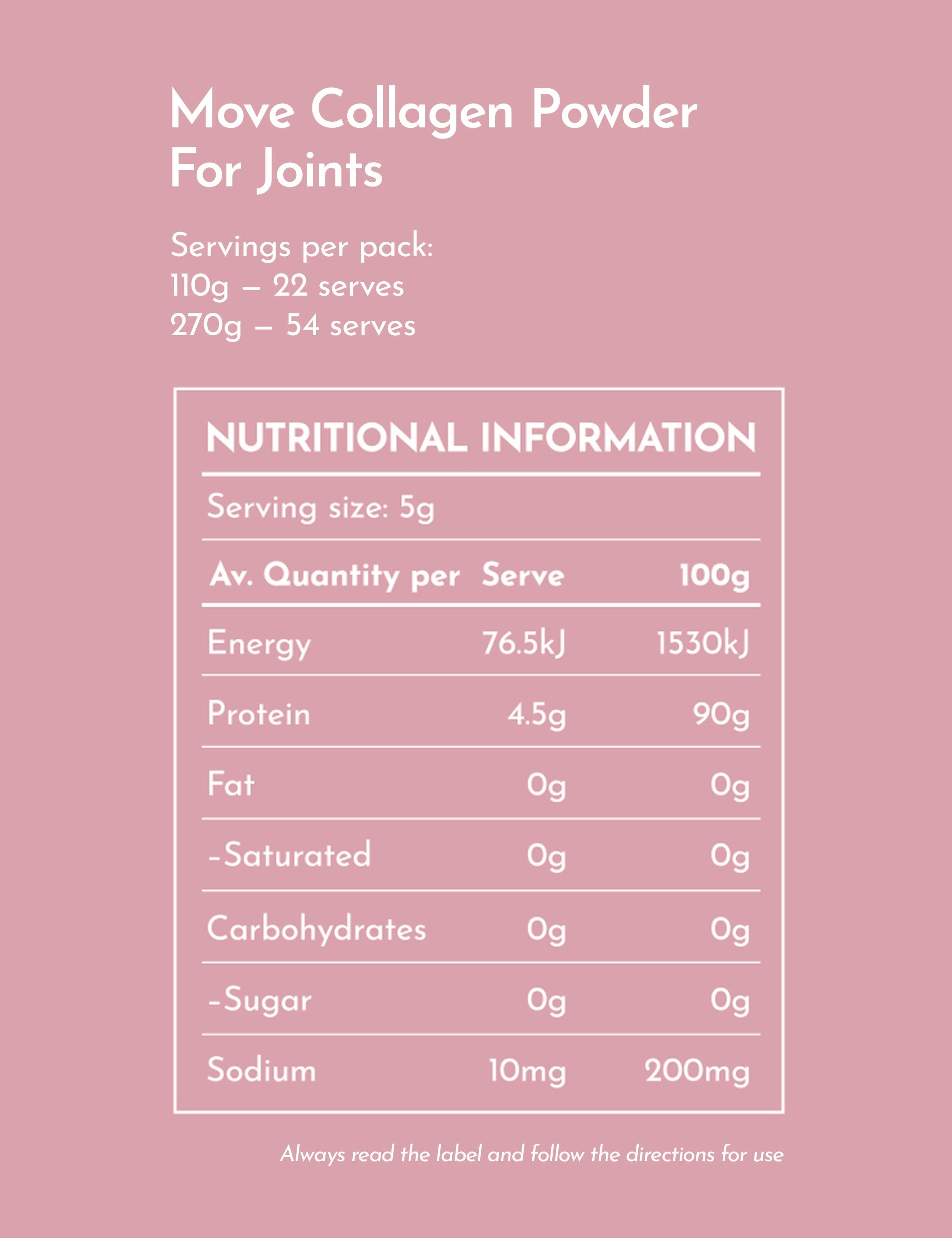 Move Collagen Powder For Joints
Reduce inflammation and assist joint movement with the most superior joint–specific hydrolysed collagen. Designed to repair and protect joint tissue, cartilage and bone health which begin to decline as we age.

SIZES: 110g, 270g

Got questions? Check our FAQs below or email us at hello@swiish.com.au
Benefits
— Supports joint strength, mobility and lubrication
— Reduces inflammation
— Helps regenerate lost collagen in joints
— Assists joint durability
— Helps prevent and protect against damage
— May assist in pain relief
— Hydrolysed for maximum absorption
— Over 95% bioavailable
Find out more here.
Directions
Add 2 teaspoons to any hot or cold drink or food and stir well.
Ingredients
100% Joint-Specific Bovine Collagen Peptides (5000mg per serve).
♻︎ All SWIISH packaging can be recycled in your normal household recycling.
FAQs
What we leave out:
Free from gluten, dairy, lactose, soy and nuts. No artificial flavours, colours or sweeteners. All natural. No added sugar.
Why is it so amazing for muscles and joints?
MOVE collagen helps reduce inflammation in the body's synovial fluid, thereby assisting with joint movement & durability and promoting cartilage lubrication.
What does it taste like?
MOVE is unflavoured, so it can also be enjoyed in any hot or cold drink of your choice.
What is the difference between MOVE Collagen and GLOW Marine Collagen?
MOVE Collagen is bovine (beef) collagen. It contains Type 2 collagen to help protect and repair joints, enhance their durability and assist in the relief of pain. MOVE promotes cartilage lubrication and helps reduce inflammation in the synovial fluid thereby assisting joint movement. GLOW Marine Collagen is marine (fish) collagen. It contains Type 1 collagen to help improve skin elasticity, fine lines and wrinkles. Other benefits include helping to reduce signs of ageing and increasing skin moisture levels, helping to give skin that GLOW.
Will MOVE help my skin as well as my muscles & joints?
The Type 2 collagen used in MOVE is specific for joints, bone and muscles. It is different from Type 1 collagen which is specific to skin. If you're looking for a collagen to help with reducing fine lines, wrinkles and signs of ageing, our GLOW collagen range was formulated using Type 1 collagen to target skin health. It is safe to take both GLOW and MOVE collagen on the same day in order to target both areas, but in short, MOVE won't help skin.
How long before I see results?
On average, people tend to see results after 4 weeks, however, this will vary from person to person. For best/fastest results, it is important to take MOVE every day.
Can I have it while pregnant or breastfeeding?
Our MOVE Powder is safe to consume while pregnant and breastfeeding. However, as everyone's situation is different, we recommend that you check with your healthcare professional to see if this powder would be beneficial for you. Please refer to the nutritional information & ingredients list.
Can I take it with other medications?
MOVE is all–natural and it contains nothing artificial. We are unable to provide exact advice on whether it is safe to consume whilst taking other specific medications. As everyone's situation is different, we recommend that you check with your healthcare professional to see if this powder would be beneficial for you. Please refer to the nutritional information & ingredients list.
The Science
Collagen is the most abundant protein in the human body with over 28 known types. The most common type, that people associate all forms of collagen with, is Type 1 collagen responsible for skin, hair, nail, and gut health. Type 2 collagen is the important form involved in joint, cartilage, and bone health. This is the type of collagen used in our MOVE Collagen Powder For Joints.

Studies show that 10g per day of collagen is recommended. One serving of MOVE Collagen equates to 5g of collagen, which is why we suggest two servings per day for optimal support. This 10g daily amount not only provides your body with adequate collagen, and assists it in generating its own. When collagen peptides are ingested, they stimulate fibroblast proliferation — the process responsible for collagen production. (Fibroblasts are a type of cell that synthesise collagen. Other than contributing to joint health, they also play an important role in wound and injury healing).

MOVE is hydrolysed collagen meaning it has been broken down into single amino acids (the building blocks of protein) that are easily absorbed by the body. This is important because collagen is a large protein made up of 19 amino acids, with the three main amino acids being glycine, proline, and hydroxyproline. The size of collagen molecules can cause a disparity in the quality and absorption of different collagen supplements — not all collagen is equal. In order for collagen to be adequately absorbed, it must first be hydrolysed to increase its bioavailability. This is a process the body does naturally, however, consuming a collagen supplement that has already been hydrolysed means that the hard work is done for you.

Joint Support and Bone Density
Clinical studies show that hydrolysed joint-specific collagen can stimulate collagenic tissue regeneration by increasing not only collagen synthesis but other important joint-supporting compounds as well. Other recent studies have demonstrated the ability of hydrolysed collagen to help reduce/prevent joint pain and even bone density loss. It is these results (along with the safety of collagen supplementation) that make it a highly effective and recommended support for joint/bone degeneration.
(Figueres Juher, T., & Basés Pérez, E. (2015). REVISIÓN DE LOS EFECTOS BENEFICIOSOS DE LA INGESTA DE COLÁGENO HIDROLIZADO SOBRE LA SALUD OSTEOARTICULAR Y EL ENVEJECIMIENTO DÉRMICO [An Overview of the Beneficial Effects of Hydrolysed Collagen Intake on Joint and Bone Health and on Skin Ageing]. Nutricion hospitalaria, 32 Suppl 1, 62–66)

Anti-inflammatory
Collagen is highly anti–inflammatory. It can help protect joints by reducing inflammation and may assist in the relief of joint-related pain that is often caused by inflammation in the synovial fluid. Synovial fluid contains different proteins (including collagen) that help lubricate joints and reduce friction – supporting ease of movement.
(Katsumata, K., Ishihara, J., Mansurov, A., Ishihara, A., Raczy, M. M., Yuba, E., & Hubbell, J. A. (2019). Targeting Inflammatory Sites through Collagen Affinity enhances the Therapeutic Efficacy of Anti-Inflammatory Antibodies. Science advances, 5(11), eaay1971)
Reviewing

Move Collagen Powder For Joints

Body feels amazing

The aches and pains have gone

Reviewing

Move Collagen Powder For Joints

Works for me

This helps me so much! I don't like the cold weather and neither does my bones! Especially my knees.

I find this product helps me.

I think it is great that you can put it in cold or warm liquid! Amazing.

So Thanks girls, for enabling us to buy this helpful powder.

I recommend it (and appreciate it)

Reviewing

Move Collagen Powder For Joints

Love Move!

One of my favourite products from your range. When I first started taking Move, I noticed a difference within a week, in my knees especially!

Reviewing

Move Collagen Powder For Joints

Another must have

As with the others, this is a must have. I know it works because if I run out and have to wait to buy some( on my part not Swiish) , I really notice the difference. I have Fibromyalgia and it definitely helps!

Thanks again, Sal and Maha 💚

Reviewing

Move Collagen Powder For Joints

Move Collagen Powder for Joints

I have used this Collagen Powder for a while now and firmly believe it helps with my arthritis in my hands.

Love it.
Reviews Loaded
Reviews Added