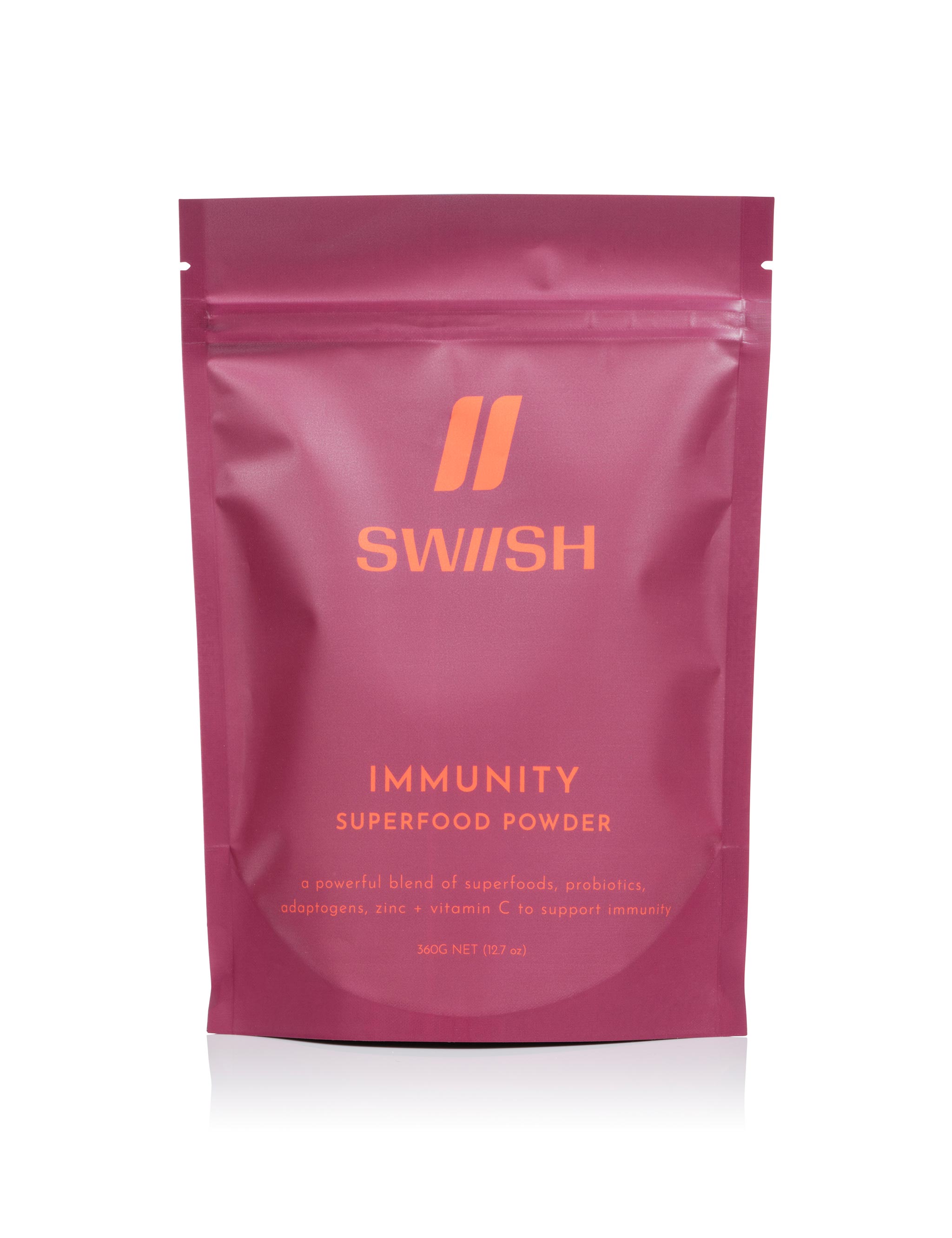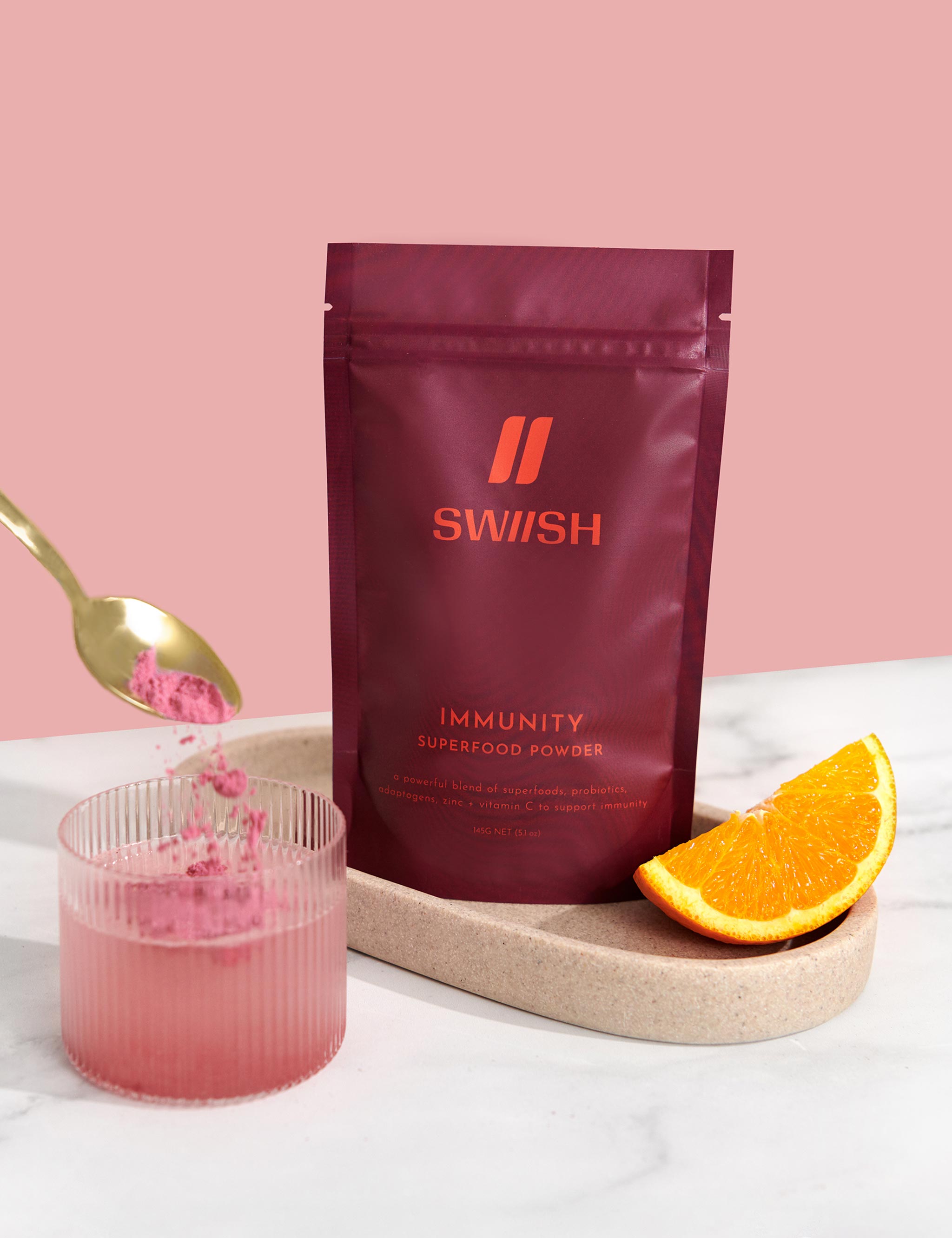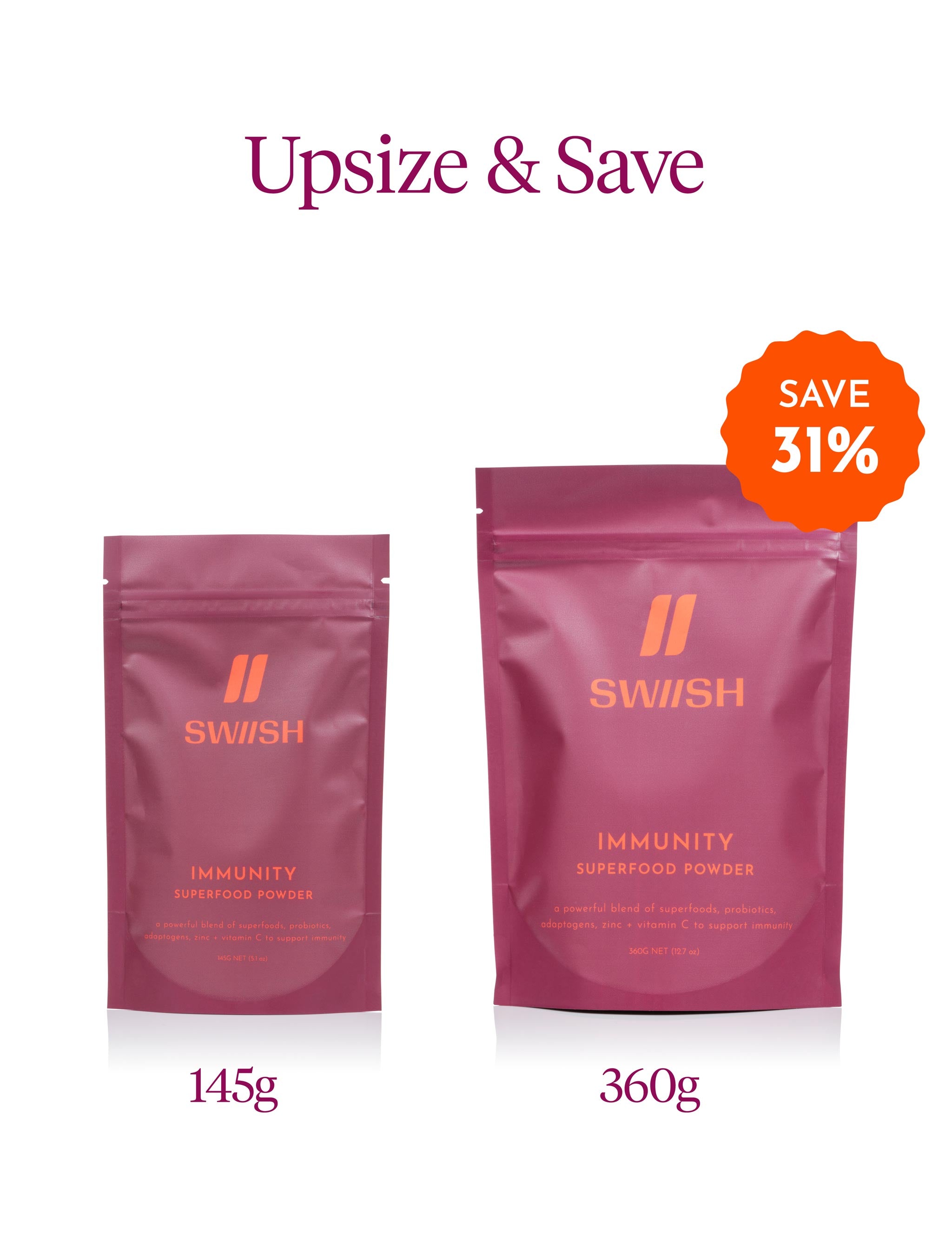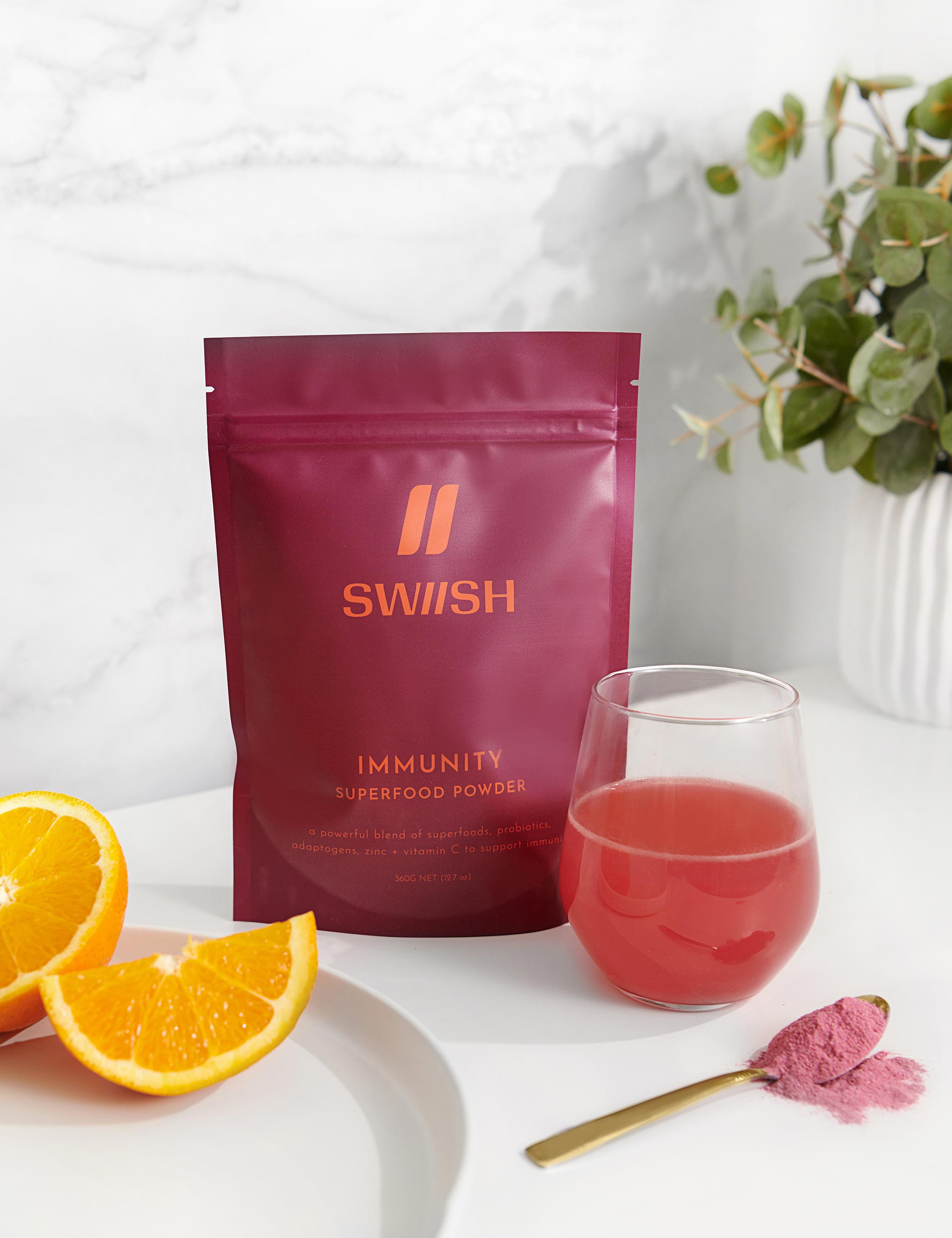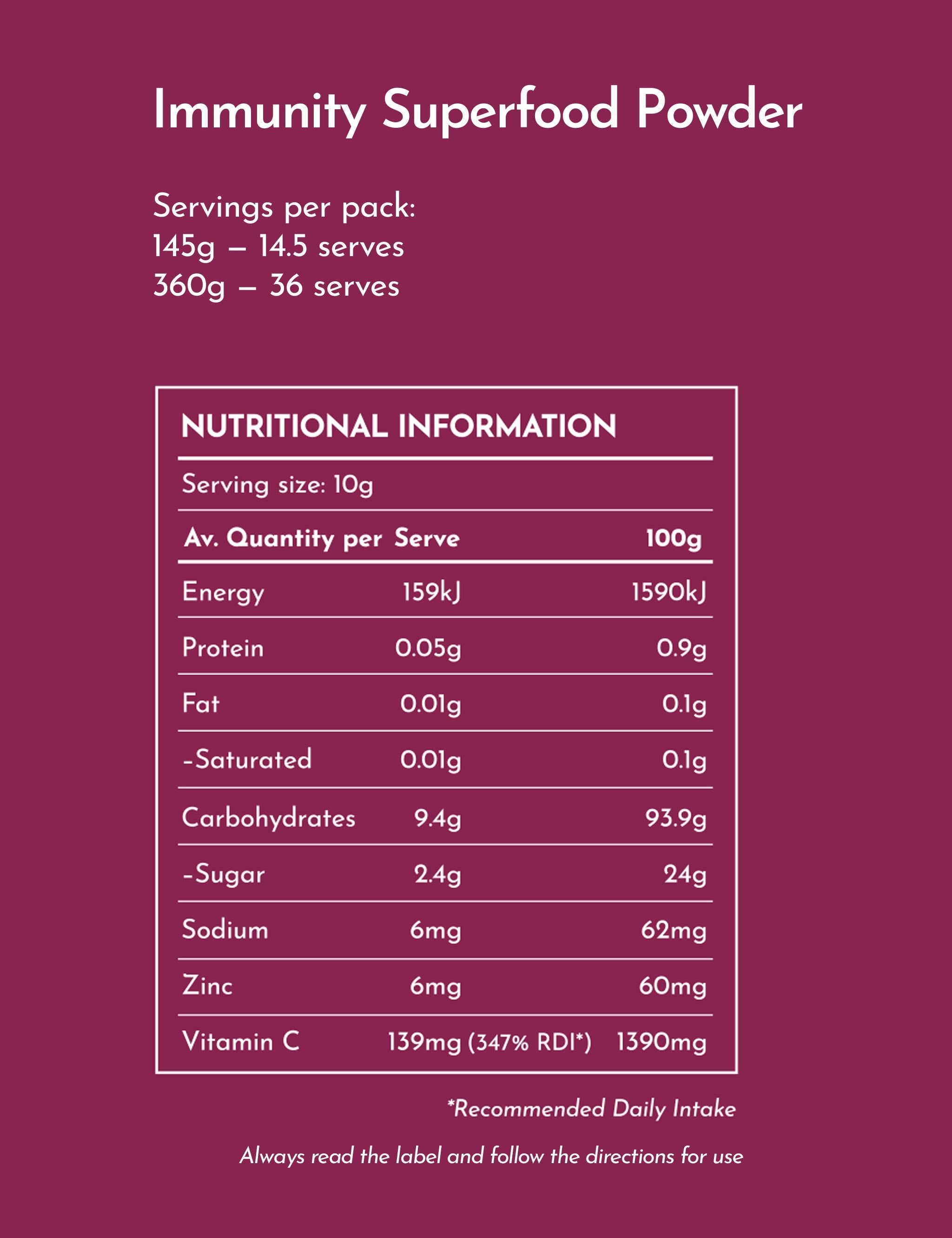 Immunity Superfood Powder
A powerful blend of superfoods, probiotics, adaptogens, Zinc and Vitamin C designed to support and enhance immune defence, all with a fresh, tangy taste.

SIZES: 145g, 360g

Got questions? Check our FAQs below or email us at hello@swiish.com.au
Benefits
— Superfoods that help protect and enhance immune function
— Excellent source of Vitamin C and Zinc
— Probiotics to support the gut-immune connection
— Immune-specific adaptogens
— Rich in antioxidants
Find out more here.
Directions
Add one scoop to ½ cup cold water or juice and stir well, or add to a shaker bottle.

Hot Immuni–Tea: Add one scoop to 1 cup hot water and stir well.

One serve daily for immune health. At the first sign of common cold symptoms, take two serves daily. Not suitable for children under 15 years of age or pregnant women.
Ingredients
Blackcurrant, Apple, Natural Orange Flavour, Acerola Cherry Extract, Ashwagandha Root, Astragalus Root, Probiotics Blend (Lactobacillus acidophilus, Bifidobacterium bifidum, Bifidobacterium lactis, Bifidobacterium longum), Zinc, Olive Leaf Extract, Steviol Glycosides.
♻︎ All SWIISH packaging can be recycled in your normal household recycling.
FAQs
What we leave out:
Free from gluten, dairy, lactose, soy and nuts. No artificial flavours, colours or sweeteners. All natural. No added sugar.
What does it taste like?
IMMUNITY has a tangy (thanks to the citrus!) taste.
Which immune-specific ingredients does it contain?
Acerola Cherry Extract — up to 100x the vitamin C content of oranges and lemons, as well as potent antioxidant and antifungal properties.
Ashwagandha Root — immune modulator with antibacterial & anti–inflammatory properties.
Blackcurrant — contains 4 x the amount of vitamin C than oranges.
Astragalus Root — helps activate the response of your immune defence cells.
Probiotic Blend — diversifies gut flora where 70% of the immune system exists.
Zinc — mediates your immune response against viruses & bacteria.
Olive Leaf Extract — enhances immune response against harmful pathogens.
Will this cure my cold or flu?
Our IMMUNITY Superfood Powder was designed to support your immune system using immune–specific, 100% natural ingredients. If you do have signs and symptoms of a cold or flu, we highly recommend taking this powder to best support your body with a healthy dose of vitamins and minerals. However, it is not a prescription medicine designed to cure or treat any specific health condition.
How is the IMMUNITY Powder different to the SUPERGREEN Powder? Isn't SUPERGREEN also helpful for immunity?
Our SUPERGREEN Superfood Powder is designed for all–round energy and general wellbeing. It has over 40 ingredients specifically chosen to support the body in healthy general functioning. Sometimes though the body needs more support, particularly when we are run down or fighting colds, flus and viruses. At these times, the body can benefit from specific ingredients that target immune support. And as such our IMMUNITY Superfood Powder was created with this in mind.
The Science
IMMUNITY Superfood Powder is designed with a blend of targeted immune-supporting ingredients. Rich in antioxidants, vitamins, minerals, adaptogens and probiotics to help strengthen overall immune function. When it comes to immune support, helping the body adapt to internal and external immune stressors (such as emotional stress or harmful pathogens) is important. Arming each cell with potent antiviral, antibacterial, and antioxidant properties is vital for immune health.

Vitamin C, Zinc and Immunity
Vitamin C is one of the most potent immune nutrients studied to date. When the immune system is under attack from harmful pathogens and bacteria, Vitamin C levels fall significantly in important immune cells (due to stress predominantly) which is one of the reasons it is important to increase vitamin C intake at times of sickness. When supplemented, clinical studies have shown that Vitamin C helps strengthen immune cell function and antimicrobial activity significantly. Similarly, Zinc is another immune essential. Studies have shown that insufficient Zinc levels are associated with impaired immune cell function, meaning your innate and adaptive immunity (the two main types) aren't able to fight off viruses and pathogens to the best of their ability. A large number of clinical trials that looked at the efficacy of Zinc and Vitamin C supplementation in immune health have shown that these two compounds help reduce cold and flu symptoms, and decrease the duration and severity of respiratory tract infections (including the common cold).
(Nowak, D., Gośliński, M., Wojtowicz, E., & Przygoński, K. (2018). Antioxidant Properties and Phenolic Compounds of Vitamin C-Rich Juices. Journal of food science, 83(8), 2237–2246)
(Wintergerst, E. S., Maggini, S., & Hornig, D. H. (2006). Immune-Enhancing Role of Vitamin C and Zinc and Effect on Clinical Conditions. Annals of nutrition & metabolism, 50(2), 85–94)

Gut Health
The gut contains the largest mass of lymphoid tissue (organised structures that support immune responses) in the body – housing 70% of your entire immune system. This tissue is known as gut-associated lymphoid tissue (GALT), and it holds the most important immune cells in the body such as B cells, T cells, lymphocytes, macrophages, and beyond. Ensuring that this large component of the immune system is functioning optimally relies on the diversity and strength of your gut – hence where probiotic supplementation comes in. When ingested, probiotics help diversify the bacteria in your gut and subsequently support a stronger immune system.
(Zhang, H., Yeh, C., Jin, Z., Ding, L., Liu, B. Y., Zhang, L., & Dannelly, H. K. (2018). Prospective study of Probiotic Supplementation results in Immune Stimulation and Improvement of Upper Respiratory Infection Rate. Synthetic and systems biotechnology, 3(2), 113–120)

Adaptogens
Pre-clinical and clinical studies on adaptogens (including Ashwagandha Root and Astragalus Root present in IMMUNITY Superfood Powder showcase their beneficial use in the prevention and treatment of viral infections. This is noted by a decrease in inflammation, increased detoxification processes, support against stress-induced oxidative damage to the infected cells, antiviral effects, and shortened recovery time.
(Panossian, A., & Brendler, T. (2020). The Role of Adaptogens in Prophylaxis and Treatment of Viral Respiratory Infections. Pharmaceuticals (Basel, Switzerland), 13(9), 236)
Reviewing

Immunity Superfood Powder

Must have!

This is my must have now. Helped me recover quicker when i had covid.

Jennifer S.

Verified Buyer

Reviewing

Immunity Superfood Powder

Supershot Trio

Great product. I also purchased Supergreen powder and collagen powder. Has helped with my energy levels and resilience to illness.

Reviewing

Immunity Superfood Powder

Delicious

Loved the flavour of this. Easy to drink. I Needed an extra boost during a busy period to avoid getting sick before a big birthday party and it worked

Danielle J.

Verified Buyer

Reviewing

Immunity Superfood Powder

Great flavour - great energy

Great tasting. easy to use. I like this on its own (not mixed with other powders). it gives me a great energy boost - I make myself reach for this in the afternoon and not another coffee!

Reviewing

Sal's Morning Supershot Trio

Morning shot

I'm enjoying the morning super shot, I feel energised and I'm experiencing less bloating.
Reviews Loaded
Reviews Added