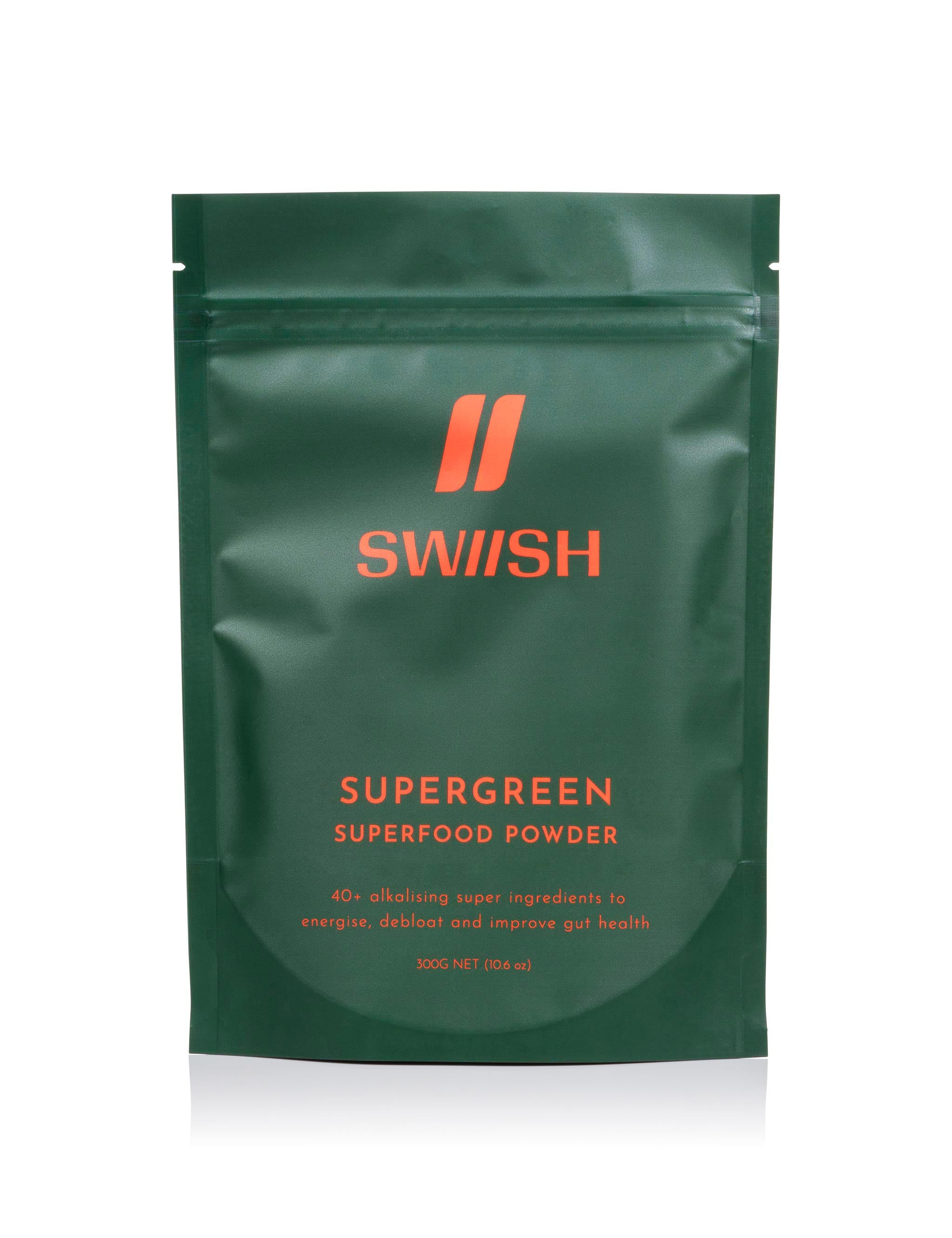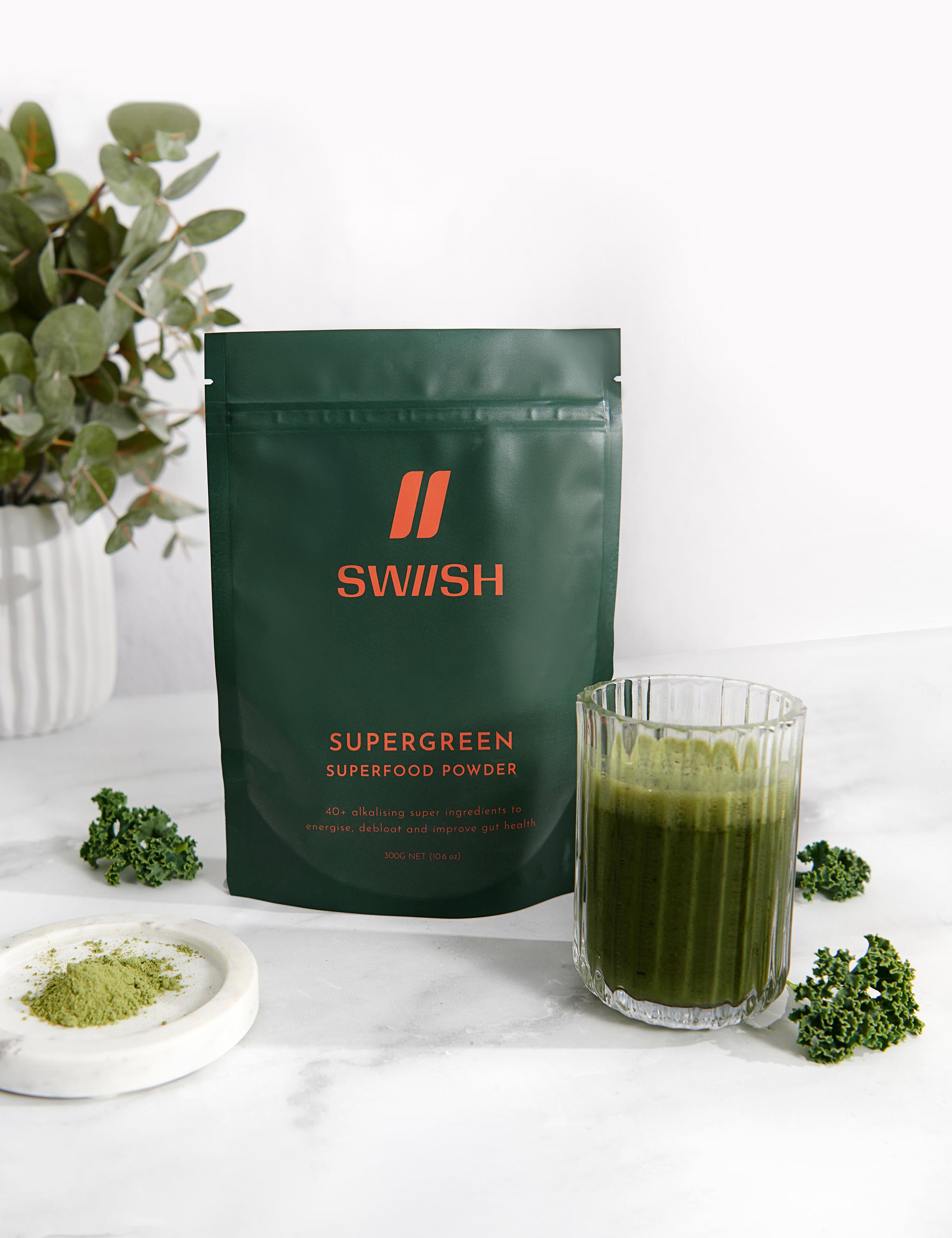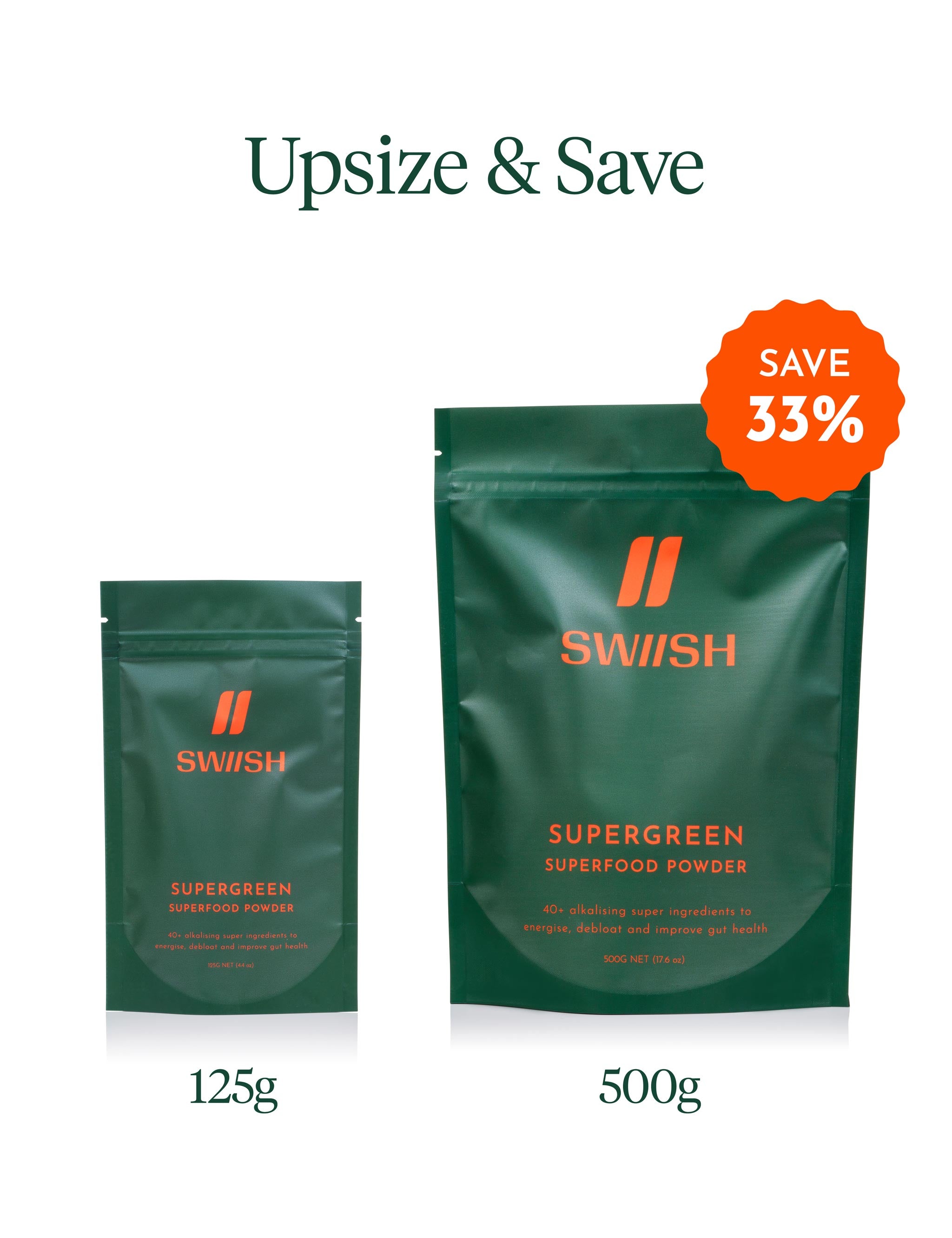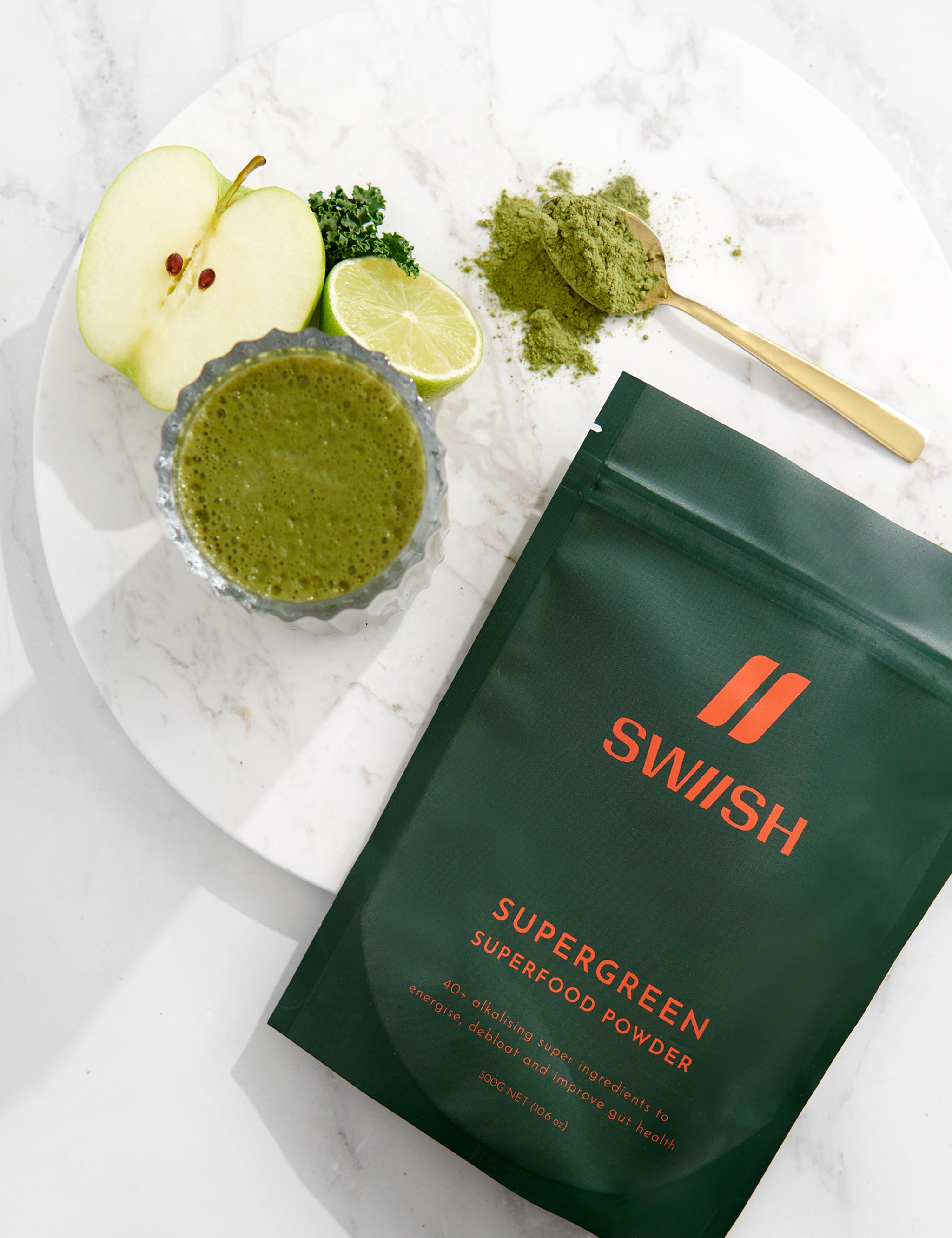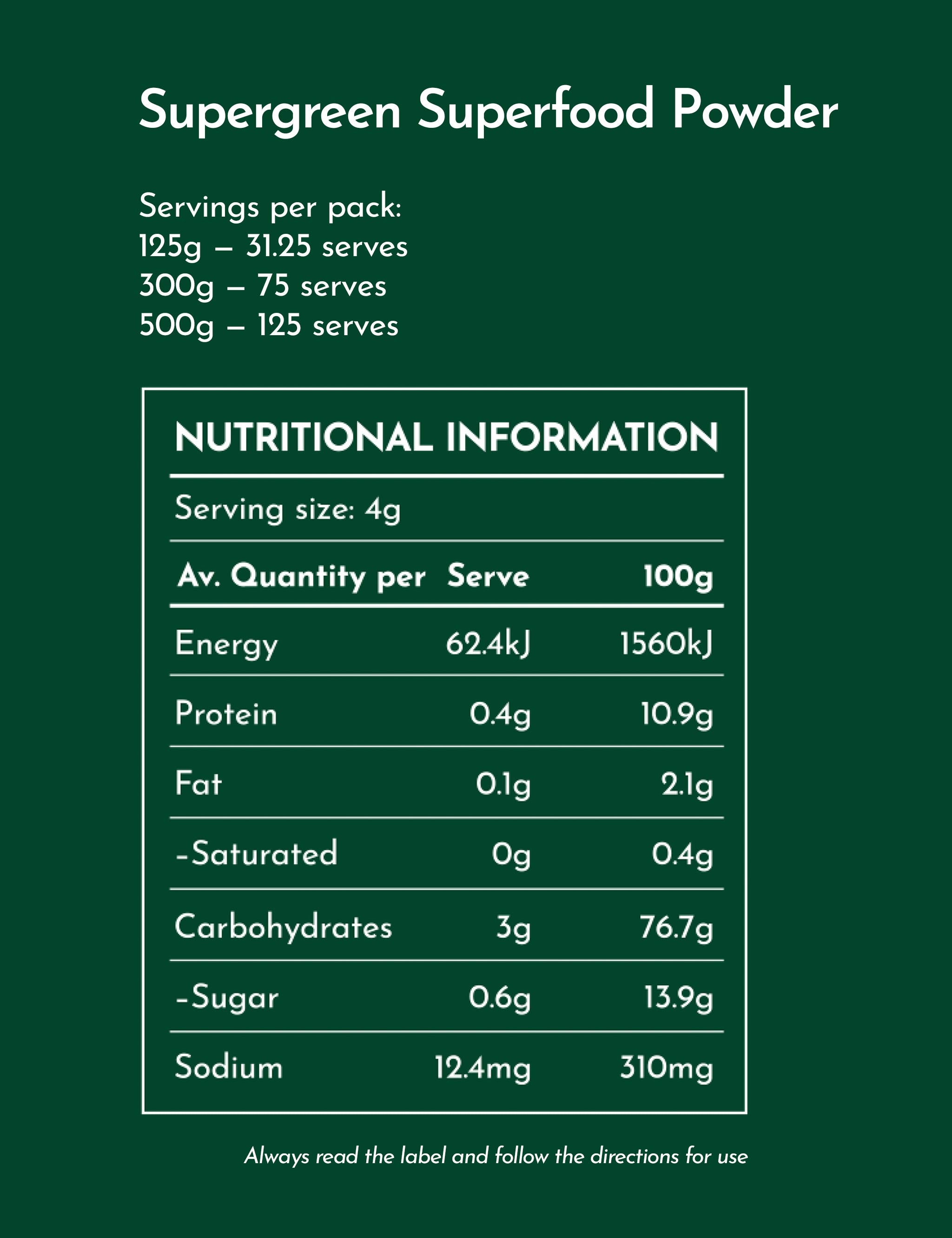 Supergreen Superfood Powder
40+ alkalising super ingredients formulated to increase energy, debloat and support a healthy, alkaline gut microbiome. The all–in–one SUPERGREEN solution.

SIZES: 125g, 300g, 500g

Got questions? Check our FAQs below or email us at hello@swiish.com.au
Benefits
— Increase energy
— Helps improve digestion and reduce bloating
— Gut-loving prebiotics and probiotics
— Support alkaline gut microbiome
— Support body detoxification
— Helps reduce sugar cravings
Find out more here.
Directions
Add 1 teaspoon to 1 cup of cold water, juice or a smoothie and stir well. Consume once or twice a day.
Ingredients
Certified Organic Wheat Grass*, Lemon Juice, Pineapple, Apple, Lime Juice, Certified Organic Alfalfa*, Cucumber, Certified Organic Maca Powder*, Spinach, Kiwi Fruit Juice, Flaxseed Meal, Inulin, Chia Flour, Kelp, Blueberry, Goji, Peppermint, Natural Lemon Flavour, Broccoli, Probiotics Blend (Lactobacillus acidophilus, Bifidobacterium bifidum, Bifidobacterium lactis, Bifidobacterium longum), Papaya, Certified Organic Chlorella*, Certified Organic Kale*, Green Tea, Echinacea Root, Certified Organic Spirulina*, Rosehip, Ginger, Certified Organic Acai*, Bromelain, Papain, Turmeric, Siberian Ginseng Extract, Shiitake Mushroom Extract, Maitake Mushroom Extract, Parsley, Aloe Vera Extract, Steviol Glycosides, Cinnamon. CONTAINS WHEAT.
*Australian Certified Organic Ingredient
♻︎ All SWIISH packaging can be recycled in your normal household recycling.
FAQs
What we leave out:
Free from gluten, egg, dairy, lactose, soy, and nuts. No artificial flavours, colours, or sweeteners.
What does it taste like?
SUPERGREENS has a delicious and refreshing flavour.
Is it a meal replacement?
SUPERGREENS is not designed to be a meal replacement, however, you might find it alleviates the craving for sugary snacks, particularly if you have it when your blood sugar levels may be low at around 3.00pm. It helps due to ingredients such as chlorophyll that help stabilise blood sugar levels. It also contains inulin, considered to be a sugar substitute, as it does not cause insulin to be secreted nor does it raise the body's blood sugar levels. Other ingredients are high in omega-3 fatty acids that also help lessen food cravings.
Looking for a meal replacement? Check out Body Blitz, our high-protein plant-based meal replacements, which comes in two flavours: Berry Blast and Choc Twist.

Can I have it while pregnant or breastfeeding?
SUPERGREENS is all natural, but consuming any supplement while pregnant or breastfeeding is a personal choice and we always recommend consulting with your doctor beforehand to be sure they approve. Please refer to the nutritional information and ingredients list.
Can I take it with other medications?
SUPERGREENS is all-natural and contains nothing artificial. We are unable to provide exact advice on whether it is safe to consume whilst taking other specific medications. As everyone's situation is different, we recommend that you check with your healthcare professional to see if this powder would be beneficial for you. Please refer to the nutritional information and ingredients list.

The Science
The SUPERGREEN Superfood Powder is designed to support energy and alkalisation in the body. It contains a blend of over 40 superfood ingredients, including probiotics, prebiotics, medicinal mushrooms, adaptogens, and plenty of fruits and green leafy vegetables. Beyond these benefits, the SUPERGREEN Superfood Powder is excellent for cognitive function, curbing sweet-tooth cravings, supporting bloating and digestive discomfort, detoxification processes, general stress support, and helping reduce oxidative damage and inflammation.

Probiotic Gut Support
SUPERGREEN Superfood Powder utilises a specific blend of probiotic strains (Lactobacillus acidophilus, Bifidobacterium bifidum, Bifidobacterium lactis, Bifidobacterium longum) that have been studied for their ability to diversify gut flora and strengthen the gut microbiome. Clinical studies have demonstrated the ability of a diverse gut microbiome in improving digestive function and motility, stress adaptation and anxiety, and even skin health – particularly in inflammatory skin conditions.
(Dimidi, E., Christodoulides, S., Scott, S. M., & Whelan, K. (2017). Mechanisms of Action of Probiotics and the Gastrointestinal Microbiota on Gut Motility and Constipation. Advances in nutrition (Bethesda, Md.), 8(3), 484–494)
(McKean, J., Naug, H., Nikbakht, E., Amiet, B., & Colson, N. (2017). Probiotics and Subclinical Psychological Symptoms in Healthy Participants: A Systematic Review and Meta-Analysis. Journal of alternative and complementary medicine (New York, N.Y.), 23(4), 249–258)
(Roudsari, M. R., Karimi, R., Sohrabvandi, S., & Mortazavian, A. M. (2015). Health Effects of Probiotics on the Skin. Critical reviews in food science and nutrition, 55(9), 1219–1240)

Enzymes and Digestive Health
The proteolytic enzymes in SUPERGREEN Superfood Powder include bromelain and papain, which are naturally derived compounds from pineapple and papaya. These enzymes assist the body in breaking down proteins that are often hard to digest and which can cause gastrointestinal pain, discomfort, and inflammation.
(Roxas M. (2008). The Role of Enzyme Supplementation in Digestive Disorders. Alternative medicine review: a journal of clinical therapeutic, 13(4), 307–314)
(Muss, C., Mosgoeller, W., & Endler, T. (2013). Papaya Preparation (Caricol®) in Digestive Disorders. Neuroendocrinology letters, 34(1), 38–46)

Medicinal Mushrooms
SUPERGREEN Superfood Powder utilises a powerhouse blend of two potent medicinal mushrooms (shiitake and maitake) that have been extensively studied for their ability to regulate blood sugar, support immune cell function, improve energy, and promote cognitive health and memory. Not only do these mushrooms contain potent antiviral, antioxidant, antibacterial, and antifungal properties, but they're also rich in B vitamins that support daily energy. This is because B vitamins are involved in the citric acid cycle – the process in the body that produces adenosine triphosphate (ATP), the primary energy-providing compound in the human body. Beyond this, B vitamins are also closely involved in liver detoxification processes that help eliminate toxins and other compounds.
(Feeney, M. J., Dwyer, J., Hasler-Lewis, C. M., Milner, J. A., Noakes, M., Rowe, S., Wach, M., Beelman, R. B., Caldwell, J., Cantorna, M. T., Castlebury, L. A., Chang, S. T., Cheskin, L. J., Clemens, R., Drescher, G., Fulgoni, V. L., 3rd, Haytowitz, D. B., Hubbard, V. S., Law, D., Myrdal Miller, A., … Wu, D. (2014). Mushrooms and Health Summit Proceedings. The Journal of nutrition, 144(7), 1128S–36S)
Reviewing

Supergreen Superfood Powder

LOVE IT

this is an amazing product

Reviewing

Supergreen Superfood Powder

Love!

Love it so much, can't live without! Tastes excellent (trust me I've tried others!) and I can tell the difference to my body when I forget! Thank you!

Reviewing

Supergreen Superfood Powder

Best Green Smoothie

The texture and taste is amazing. It's so easy to mix with water or juice. I have felt and seen the benefits with myself since having it. LOVE, LOVE ot

Reviewing

Supergreen Superfood Powder

My daily tonic

I have been taking Super greens for nearly 2 years and have noticed a huge difference in my energy levels. It has helped with my menopausal bloating and my annual blood test results have improved too. The taste is great. Love it!!!

Reviewing

Supergreen Superfood Powder

Super green superfood powder

I have been taking it for a couple of years and my iron levels are good and overall gut health has improved. I am not bloated, and my gut health is good. That's why I keep coming back. 😀
Reviews Loaded
Reviews Added