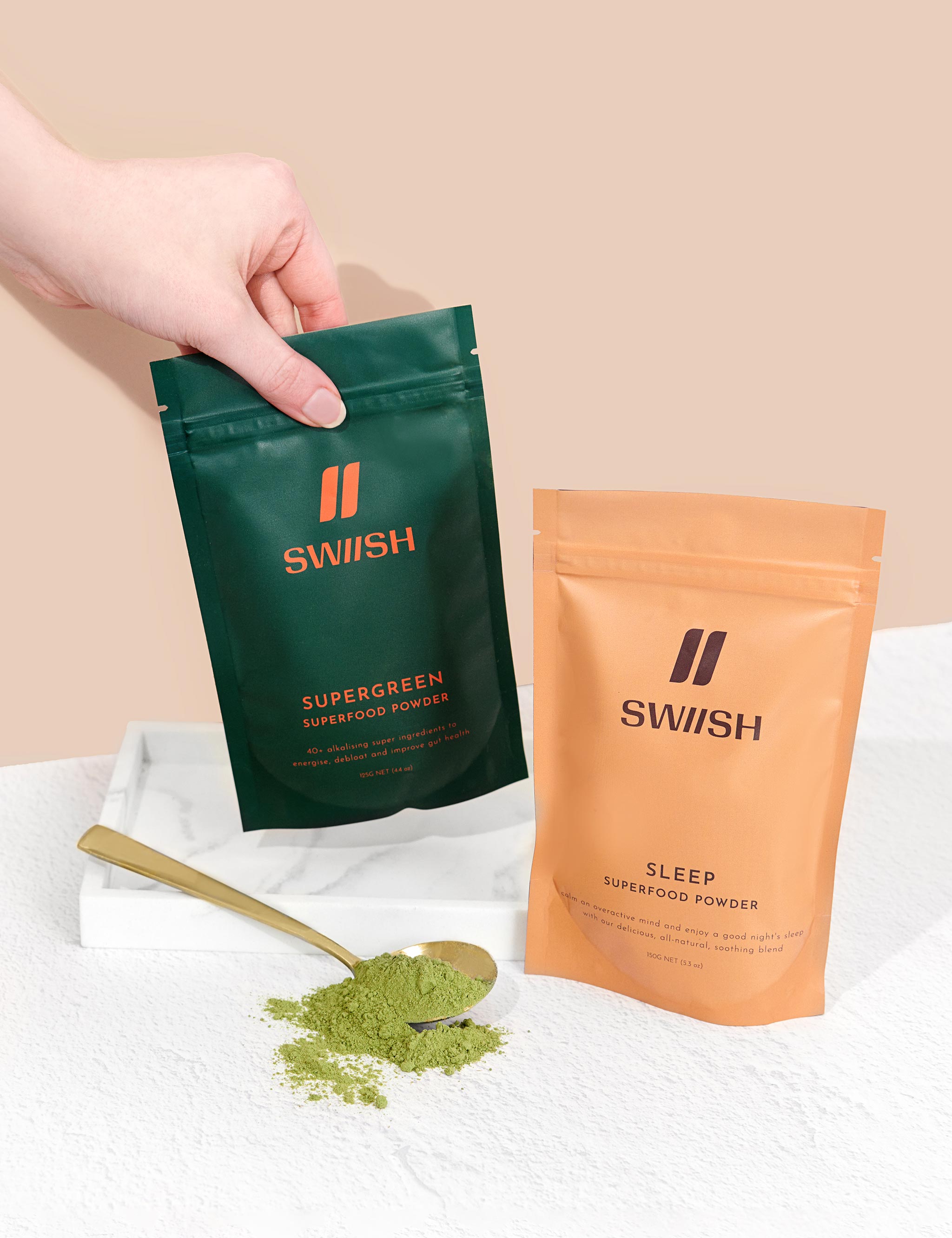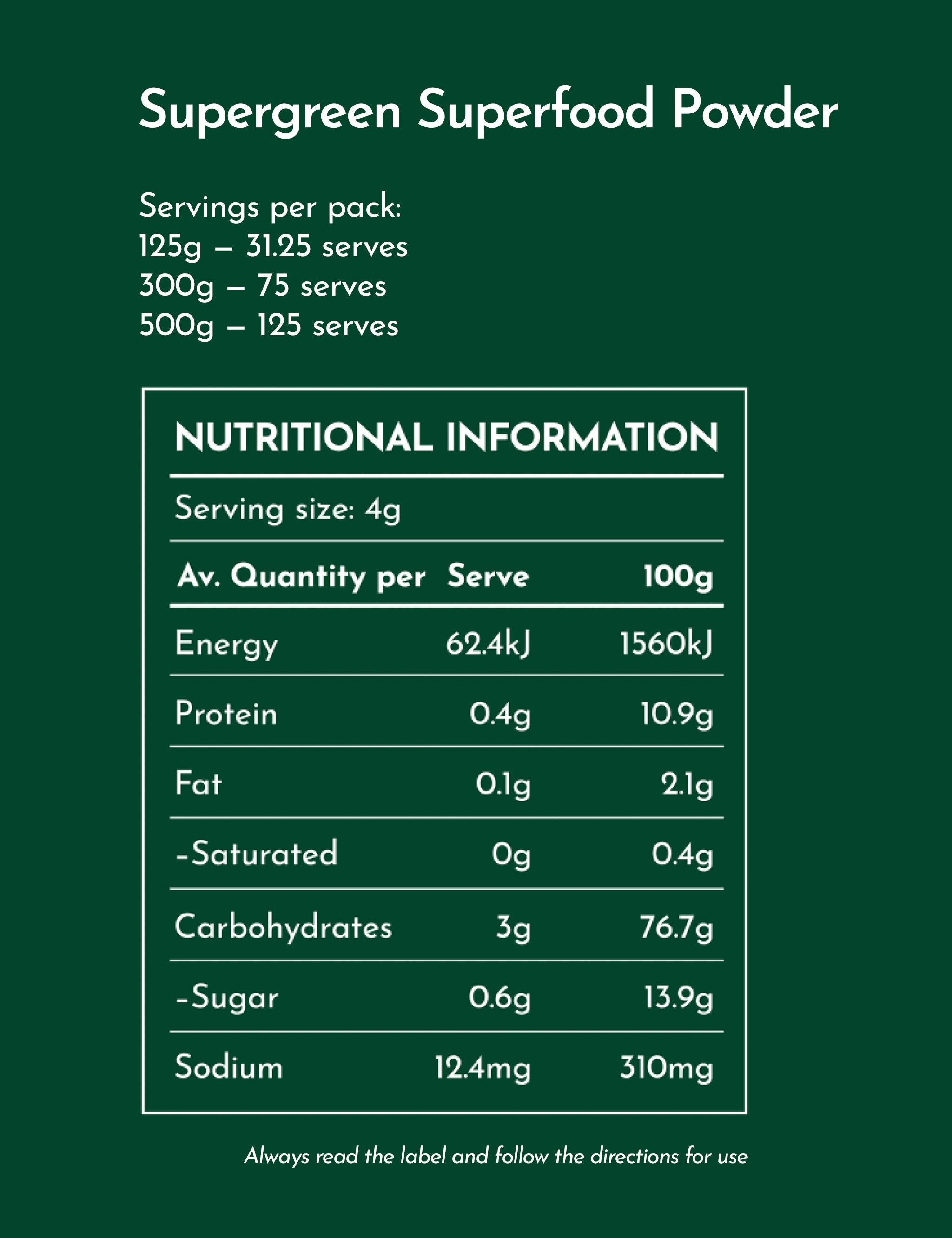 YOUR MORNING AND NIGHT SOLUTION IN ONE EASY COMBO

This super duo AM/PM Combo gives your body the support it needs to stay on top of your wellbeing. Start your day with an energy-supporting boost that will kick-start digestion and end with the perfect nightcap designed to help you rest, rebalance, and rejuvenate. Whether you're just starting your wellness journey or are looking for a time-efficient way to feel your best, this is the perfect combo.

Includes: SUPERGREEN Superfood Powder 125g; SLEEP Superfood Powder 150g

Got questions? Check our FAQs below or email us at hello@swiish.com.au
Benefits
SUPERGREEN SUPERFOOD POWDER:
— Increases energy
— Helps improve digestion and reduce bloating
— Supports alkaline gut microbiome
— Helps reduce sugar cravings
SLEEP SUPERFOOD POWDER:
— Improves sleep depth and quality
— Promotes a steady state of relaxation
— Supports feelings of stress and anxiety
Directions
Enjoy a serving of SUPERGREEN Superfood Powder each morning, then sip on a cup of SLEEP Superfood Powder around 30 minutes before bed each evening.
Ingredients
SUPERGREEN SUPERFOOD POWDER: Certified Organic Wheat Grass*, Lemon Juice, Pineapple, Apple, Lime Juice, Certified Organic Alfalfa*, Cucumber, Certified Organic Maca Powder*, Spinach, Kiwi Fruit Juice, Flaxseed Meal, Inulin, Chia Flour, Kelp, Blueberry, Goji, Peppermint, Natural Lemon Flavour, Broccoli, Probiotics Blend (Lactobacillus acidophilus, Bifidobacterium bifidum, Bifidobacterium lactis, Bifidobacterium longum), Papaya, Certified Organic Chlorella*, Certified Organic Kale*, Green Tea, Echinacea Root, Certified Organic Spirulina*, Rosehip, Ginger, Certified Organic Acai*, Bromelain, Papain, Turmeric, Siberian Ginseng Extract, Shiitake Mushroom Extract, Maitake Mushroom Extract, Parsley, Aloe Vera Extract, Steviol Glycosides, Cinnamon. CONTAINS WHEAT.
*Australian Certified Organic Ingredient
SLEEP SUPERFOOD POWDER: Tart Cherry (Prunus Cerasus), Banana, Cherry, Cacao, Honey, Date, Ginger, Turmeric, Siberian Ginseng, Cinnamon, Natural Vanilla Flavour.
♻︎ All SWIISH packaging can be recycled in your normal household recycling.
FAQs
What we leave out:
Free from gluten, dairy, lactose, soy and nuts. No artificial flavours, colours or sweeteners. All natural. No added sugar.
Should I mix these two powders together?
No, these powders were designed to be taken separately in the morning and evening. They work on an AM/PM basis and are the perfect way to start and end your day right. Have SUPERGREEN in the morning and SLEEP at night.
What do each of the powders in this pack taste like?
SUPERGREEN Superfood Powder has a refreshing taste and SLEEP Superfood Powder has a delicious mild chai flavour.
Can I take the powders in this pack while pregnant or breastfeeding?
Our SWIISH powders are all natural, but consuming any supplement while pregnant or breastfeeding is a personal choice and we always recommend consulting with your doctor beforehand to be sure they approve. Please refer to the nutritional information and ingredients list.
Can I take the powders in this pack with other medications?
Our SWIISH powders are all-natural and contain nothing artificial. We are unable to provide exact advice on whether they are safe to consume whilst taking other specific medications. As everyone's situation is different, we recommend that you check with your healthcare professional to see if these powders would be beneficial for you. Please refer to the nutritional information & ingredients list for each powder.
The Science
SUPERGREEN Superfood Powder — Probiotic Gut Support
The SUPERGREEN Powder utilises a specific blend of probiotic strains (Lactobacillus acidophilus, Bifidobacterium bifidum, Bifidobacterium lactis, Bifidobacterium longum) that have been studied for their ability to diversify gut flora and strengthen the gut microbiome. Clinical studies have demonstrated the ability of a diverse gut microbiome in improving digestive function and motility, stress adaptation and anxiety, and even skin health — particularly in inflammatory skin conditions.
(Dimidi, E., Christodoulides, S., Scott, S. M., & Whelan, K. (2017). Mechanisms of Action of Probiotics and the Gastrointestinal Microbiota on Gut Motility and Constipation. Advances in nutrition (Bethesda, Md.), 8(3), 484–494)
(McKean, J., Naug, H., Nikbakht, E., Amiet, B., & Colson, N. (2017). Probiotics and Subclinical Psychological Symptoms in Healthy Participants: A Systematic Review and Meta-Analysis. Journal of alternative and complementary medicine (New York, N.Y.), 23(4), 249–258)
(Roudsari, M. R., Karimi, R., Sohrabvandi, S., & Mortazavian, A. M. (2015). Health Effects of Probiotics on the Skin. Critical reviews in food science and nutrition, 55(9), 1219–1240)

The proteolytic enzymes in SUPERGREEN Superfood Powder include bromelain and papain, which are naturally derived compounds from pineapple and papaya. These enzymes assist the body in breaking down proteins that are often hard to digest and which can cause gastrointestinal pain, discomfort, and inflammation.
(Roxas M. (2008). The Role of Enzyme Supplementation in Digestive Disorders. Alternative medicine review: a journal of clinical therapeutic, 13(4), 307–314)
(Muss, C., Mosgoeller, W., & Endler, T. (2013). Papaya Preparation (Caricol®) in Digestive ≥Disorders. Neuroendocrinology letters, 34(1), 38–46)

SLEEP Superfood Powder — Melatonin Support & Improved Sleep Quality
There is an amino acid known as tryptophan in Tart Cherry (the No.1 ingredient in the SLEEP Powder) that is a precursor (meaning it's involved in the production of) of melatonin (for sleep) and serotonin (your happiness hormone). Clinical evidence further suggests that a primary function of melatonin in Tart Cherries is also as an antioxidant, helping protect the cherry from oxidative stress. This works two-fold, as melatonin doubles as a potent antioxidant in the human body, assisting with anti-inflammation, skin health, reducing free radicals, and supporting the body against oxidative damage.
(Zhao, Y., Tan, D. X., Lei, Q., Chen, H., Wang, L., Li, Q. T., Gao, Y., & Kong, J. (2013). Melatonin and its Potential Biological Functions in the Fruits of Sweet Cherry. Journal of pineal research, 55(1), 79–88)
In another major 2012 study on Tart Cherry and melatonin synthesis, it was found that supplementation increased circulating melatonin levels in the body, improved sleep time and quality, elevated total melatonin content, increased total sleep duration, reduced daytime napping, and improved sleep efficiency in total by 82.3%.
(Howatson, G., Bell, P. G., Tallent, J., Middleton, B., McHugh, M. P., & Ellis, J. (2012). Effect of Tart Cherry Juice (Prunus cerasus) on Melatonin Levels and Enhanced Sleep Quality. European journal of nutrition, 51(8), 909–916)
Reviewing

Sleep Superfood Powder

Sleep powder

Amazing tastes like a chai I have it with warm almond milk before bed sleep like a baby

Reviewing

The AM/PM Combo

Love this combo

The Dynamic duo.

My two favorite products in your amazing range.

Veronica L.

Verified Buyer

Reviewing

Sleep Superfood Powder - 150G

Yummo

Love it and more importantly it works!

Reviewing

Beauty Sleep Pack

amazing products

I have been buying these powders for years and I love them.

Reviewing

Sleep Superfood Powder - 150G

Product is amazing

The is the best sleep powder. I have a cup of this an hour before I go to bed and have a really consistent sleep. I highly recommend.
Reviews Loaded
Reviews Added