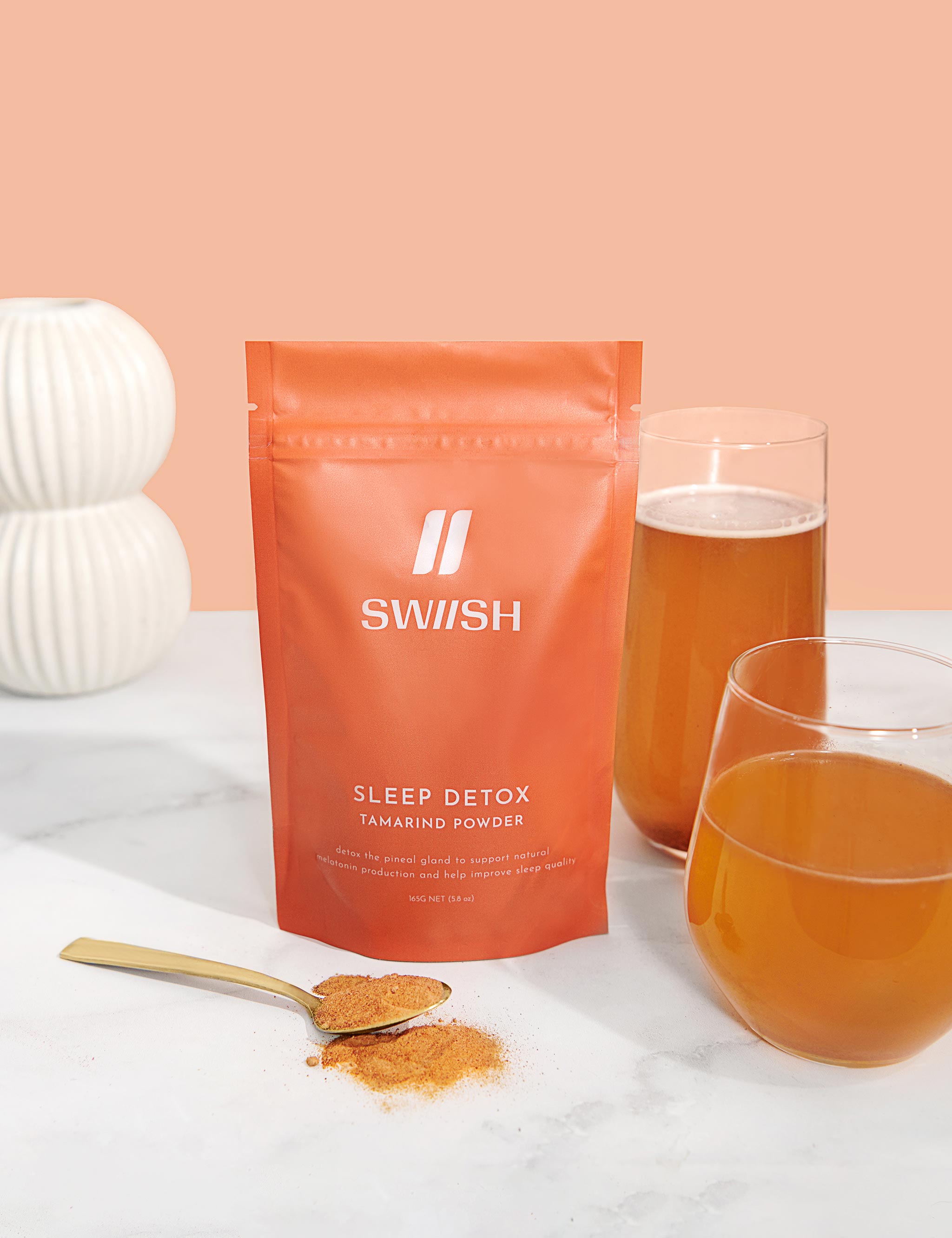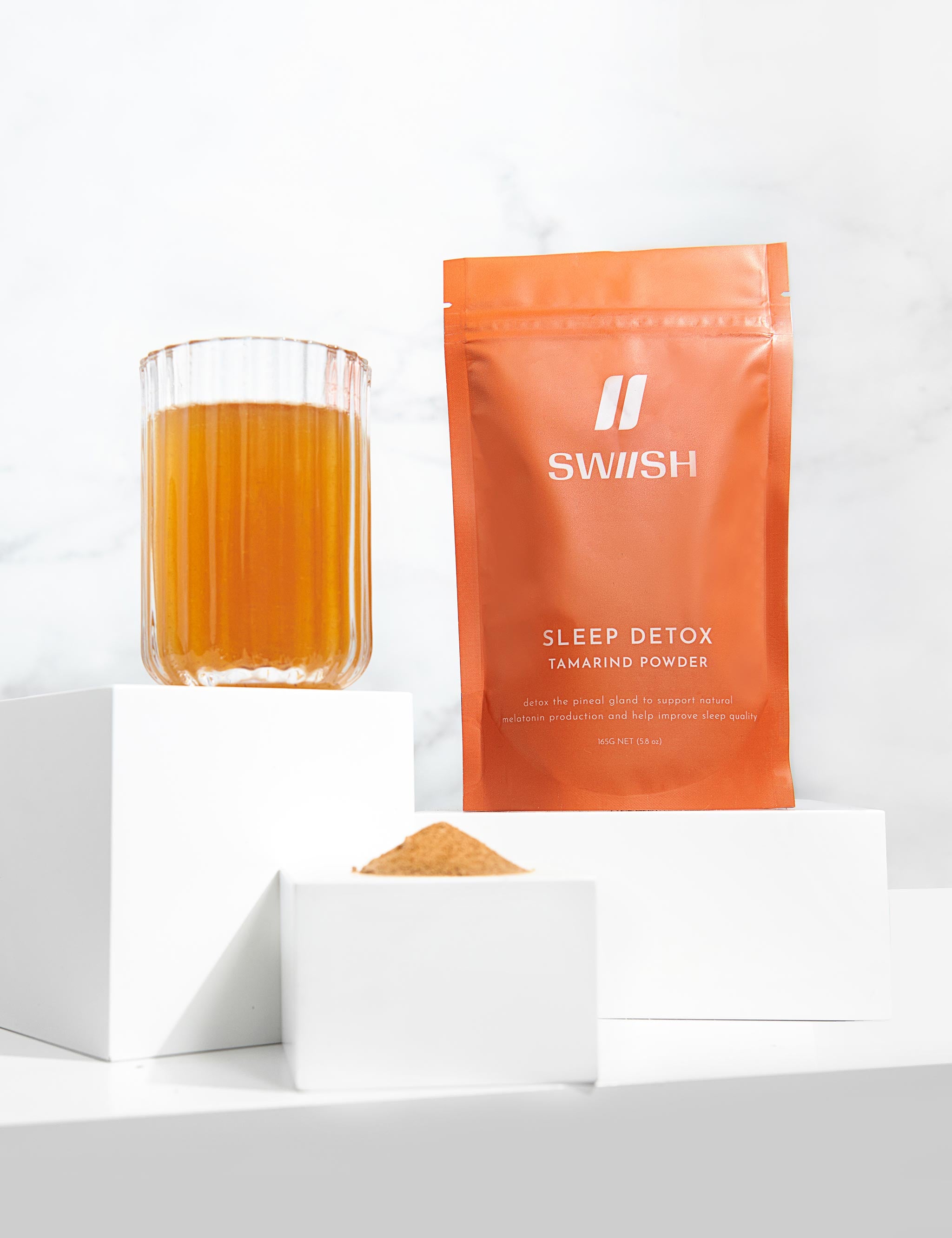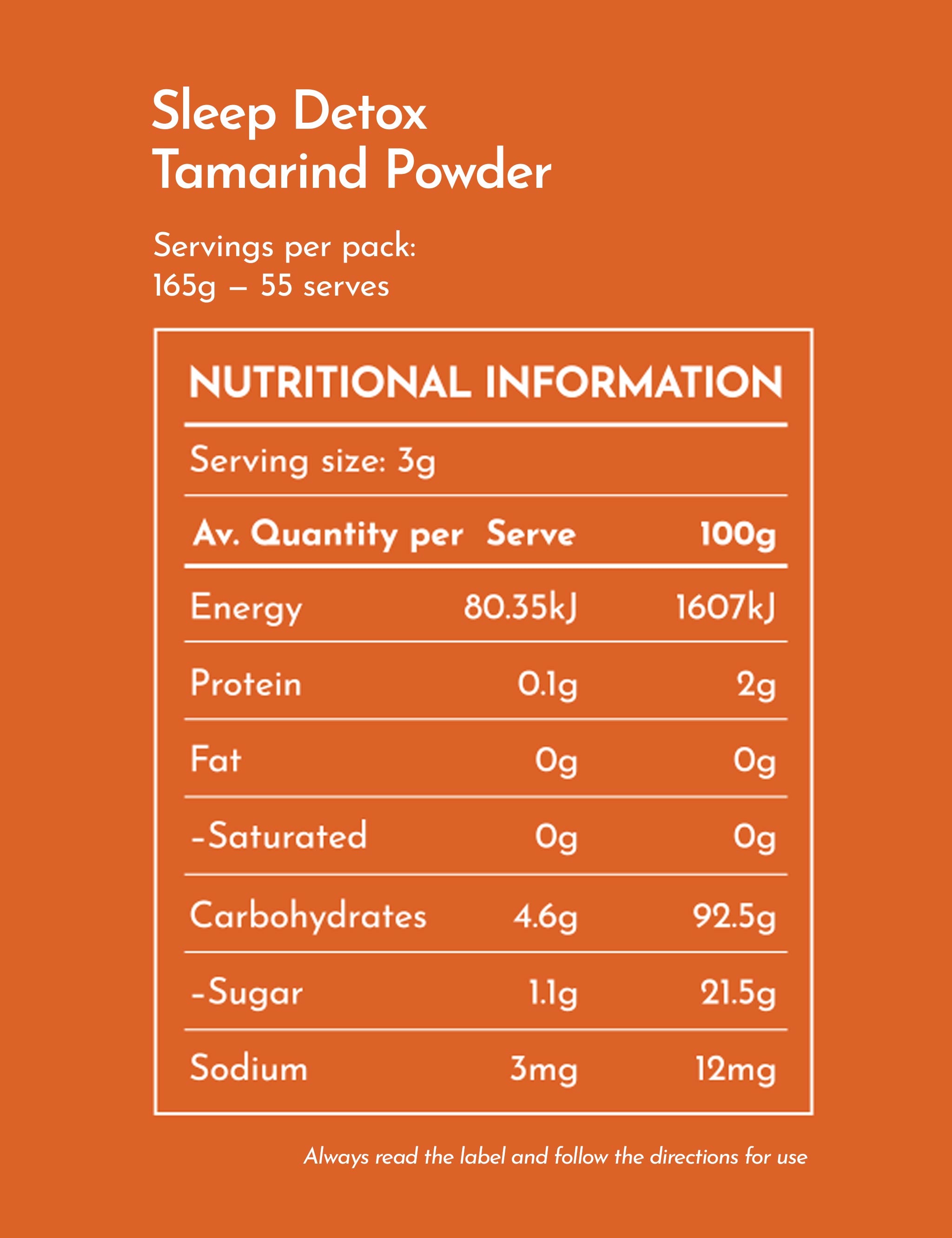 Sleep Detox Tamarind Powder
Formulated to help detox the pineal gland which is responsible for the production and secretion of melatonin, a hormone that regulates our sleep patterns, thus helping improve sleep quality.

SIZE: 165g

Got questions? Check our FAQs below or email us at hello@swiish.com.au
Benefits
— Supports melatonin and serotonin hormone production
— Helps improve sleep quality
— Supports circadian rhythm
— Antioxidant–rich
— Excellent source of calcium, magnesium, iron, potassium and zinc

Find out more here.
Directions
Add 1 teaspoon to 1 cup cold water and stir well. Take twice a week, ideally on consecutive days.
Ingredients
100% Tamarind Powder. Warning: Not suitable if you are taking blood thinners.
♻︎ All SWIISH packaging can be recycled in your normal household recycling.
FAQs
What we leave out:
Free from gluten, dairy, lactose, soy and nuts. No artificial flavours, colours or sweeteners. All natural. No added sugar.
What does it taste like?
SLEEP DETOX Tamarind Powder has a tangy taste.
How does detoxing help with better sleep?
By removing excess fluoride from the pineal gland. Tamarind helps detox the body in a natural way. Besides being an excellent fluoride–detoxifier, tamarind has anti–inflammatory, antibacterial and antihistaminic properties so it can also help fight allergies, infections and wounds.
What are the extra benefits of tamarind?
Tamarind has a myriad of health benefits that make it a powerful superfood, which is why it's been used for centuries in traditional medicine. Historically, tamarind has been used to remedy fevers, speed up the healing of wounds, aid digestion and stabilise blood sugar levels and whilst we still benefit from these today, it is now also known for its ability to eliminate excess fluoride from the body. In addition, tamarind is also an excellent source of vital minerals such as calcium, magnesium, iron and potassium, as well as being packed with vitamins including B vitamins, Vitamins A, C, E and K.
Can I have it while pregnant or breastfeeding?
Our SLEEP DETOX Powder is safe to consume while pregnant and breastfeeding. However, as everyone's situation is different, we recommend that you check with your healthcare professional to see if this powder would be beneficial for you. Please refer to the nutritional information & ingredients list.
Can I take it with other medications?
Anyone on blood thinners should not take SLEEP DETOX Tamarind Powder. Outside of this, SLEEP DETOX is all–natural and contains nothing artificial. We are unable to provide exact advice on whether it is safe to consume whilst taking other specific medications. As everyone's situation is different, we recommend that you check with your healthcare professional to see if this powder would be beneficial for you. Please refer to the nutritional information & ingredients list.
The Science
The SLEEP DETOX Superfood Powder is made from 100% Tamarind powder that is not only an excellent source of fibre, calcium, magnesium, iron, potassium, and zinc — but it also helps the body to detox and eliminate. Fluoride is added to our water supplies, toothpastes and other oral hygiene products as it has been shown to help prevent tooth decay. If not properly excreted, this fluoride can build up in the human body — with one of the main areas being in the area of the brain, known as the pineal gland. The pineal gland is responsible for the production and release of many important hormones, with melatonin (for sleep) being one of the main hormones impacted here.

Melatonin and the Pineal Gland
Tamarind is a legume and superfruit that has been clinically studied for its ability to help detoxify the pineal gland and increase the urinary excretion of fluoride from the pineal gland and body.
(Khandare, A. L., Rao, G. S., & Lakshmaiah, N. (2002). Effect of Tamarind Ingestion on Fluoride Excretion in Humans. European journal of clinical nutrition, 56(1), 82–85)
(Dey, S., Swarup, D., Saxena, A., & Dan, A. (2011). In Vivo Efficacy of Tamarind (Tamarindus indica) Fruit Extract on Experimental Fluoride Exposure in Rats. Research in veterinary science, 91(3), 422–425)

Studies have proceeded to show that fluoride exposure may contribute to changes in sleep cycle regulation and behaviours. SLEEP DETOX Superfood Powder is therefore an excellent option for helping increase the elimination of fluoride from the body to support sleep.
(Malin, A. J., Bose, S., Busgang, S. A., Gennings, C., Thorpy, M., Wright, R. O., Wright, R. J., & Arora, M. (2019). Fluoride Exposure and Sleep Patterns among Older Adolescents in the United States: A Cross-Sectional Study of NHANES 2015-2016. Environmental health : a global access science source, 18(1), 106)
Great

Awesome product, good sleeping, just need to give it time to work.

Sleep detox powder

I have had this powder now for a month and can definitely see a difference. The taste is pleaseant no horrible after-taste either. Will continue to buy it. Great product

Best for detoxification

It is great taste and works well

5 Stars

Quite sure it has improved quality of sleep.

5 Stars

I love this detox powder it's so easy and tastes delicious. I take this on the weekend so it's easy to remember and I find it resets my body and in conjunction with the sleep powder it assists me in having a good nights sleep.
Reviews Loaded
Reviews Added